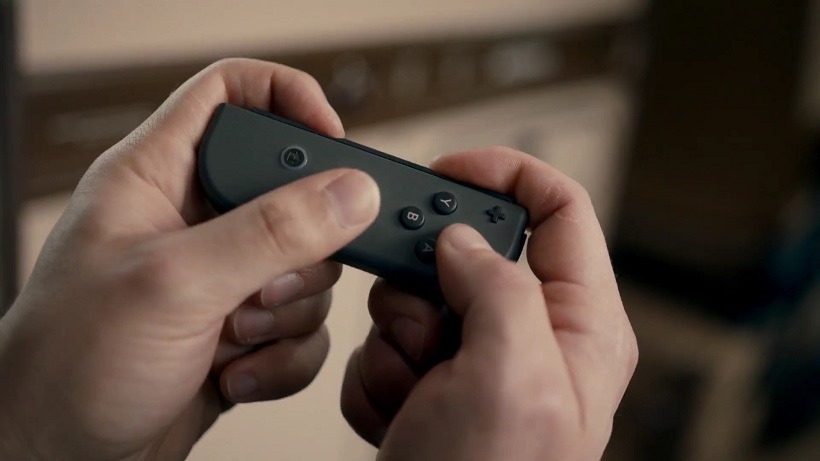 On stage at the Nintendo Switch Event, Nintendo dived deep into the details surrounding their new controllers for the Switch: The Joy-Con. The controller comes in two halves, which can be docked either on the side of the Switch itself or on its own dock for more traditional play. But that's just scratching the surface, with many more nuanced features hiding beneath the Joy-Con shell.
First up, each half of the Joy-Con will feature its own set of L and R buttons, meaning each can theoretically be used as a full controller. Considering how small these Joy-Con actually look, it's not the ideal way to play by any stretch of the imagination, but it does mean multiplayer experiences won't be hampered by limited controller inputs. On top of that, the Joy-Con will feature its own Share Button, which is a neat touch.
Underneath, the Joy-Con feature two notable technologies. First, a motion sensing camera on the front will be able to track hand movements, motion and measure distance in front of the controller. This lends itself to more physical multiplayer games. On top of that, Nintendo introduce a new type of Rumble, which they're dubbed as HD Rumble. Essentially, Nintendo promises precision in their vibration, stating that you could feel the difference between one, two and three ice cubes if the Joy-Con is compared to a glass. You could even feel if they were submerged too.
The Joy-Con will also launch with a bunch of accessories, various different colour schemes and more. Stick with us as Nintendo reveal even more Switch goodness.
Last Updated: January 13, 2017