I'm an unabashed Nintendo nut, so I was pretty damned tickled by the reveal of the NES controller-shaped Joy-cons that Nintendo revealed last week. They're the same size and shape as the original NES controllers, but function wirelessly. They can be attached directly to the Switch to charge, so they sport the unsightly strip found atop regular Joy Cons.
As revealed last week, they'll only be available to those who subscribe to Nintendo's online service which goes live this week, on September 19. As you may already know, the service will be required to play games online, and comes with a selection of NES games that subscribers will be able to play. Using these official controllers for NES games – wirelessly – is a dream. But then Nintendo went and did a very Nintendo thing.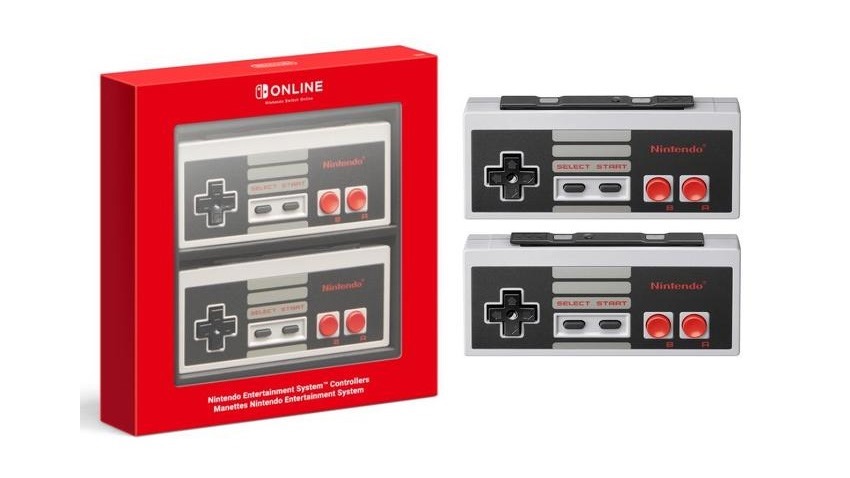 These NES controllers will only work with the NES games included with the Switch Online subscription. That means $60 for a pair of controllers you can only use with the 20 or so effectively rented NES games available, and the other NES games coming in the future. It shouldn't be that surprising; these controllers only have the two buttons found on an actual NES controller, but it would have been trivial to add support for the handful of simpler games that only use two buttons. Even better, Nintendo could have included four face buttons, having two of them act as turbo buttons in NES games. Hell, they could have included the L and R trigger buttons with ease (without sacrificing aesthetics) and have had them function as Joy-Cons for all retro games.
But no, Nintendo. Anyway, in case you've forgotten, here's the list of NES games that'll launch with the online subscription this week:
Soccer
Tennis
Donkey Kong™
Mario Bros.™
Super Mario Bros.™
Balloon Fight™
Ice Climber™
Dr. Mario™
The Legend of Zelda™
Super Mario Bros.™ 3
Double Dragon
River City Ransom
Ghosts'n Goblins™
Tecmo Bowl
Gradius
Pro Wrestling
Excitebike™
Yoshi™
Ice Hockey
Baseball
By the end of December, the following games will also be available.
Solomon's Key
NES Open Tournament Golf
Super Dodgeball
Metroid
Mighty Bomb Jack
Twinbee
Wario Woods
Ninja Gaiden
Adventures of Lolo
Of course, Nintendo isn't forcing players to buy these new NES controllers, but it would be lovely if they had a little more use beyond just playing NES games. And you just know that if or when they add SNES games to the mix, there'll be brand new controllers to buy.
Last Updated: September 17, 2018