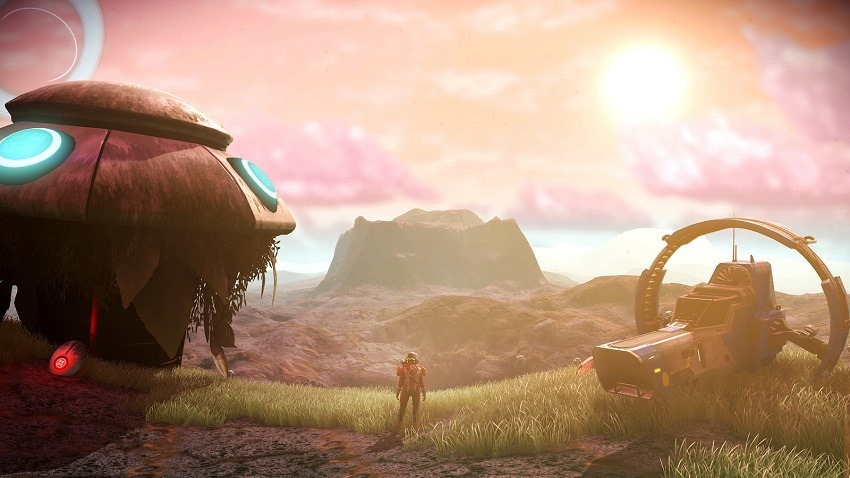 No Man's Sky was certainly a flawed game at launch, but you have to take your hat off to Hello Games for just how well they've turned it around. The space exploration simulator has received numerous free updates since launch, adding loads of new mechanics, building functionality, vehicles, fixes and story content. The largest of the bunch came earlier this year with Next – a comprehensive reworking of the game's core narrative and a good jumping on point for anyone who may have turned off their thrusters not long after launch. Visions, a new update that's out today, isn't as large. But it's certainly intriguing.
Visions, which should be out today, isn't adding drastically new content to the already expansive game. Instead, it's fine-tuning certain elements to breathe new variety into existing planets and landscapes. Five new biomes are being introduced that bring along with them more flora and fauna for you to discover. Visuals are being spruced up again to create more fantastical shapes and surfaces to planets, while also improving how colours mix together with an expanded palette for the random generation to work with. It looks stunning, which has been the case since Next, and you can see it all running in the trailer below.
Visions is also working on community, as Hello Games attempts to pivot some of its elements to more service-like models. There will now be galactic quests that all players can work towards, with rewards should the goals be met. Resource-salvaging is also more varied now, with crashed freighters and new alien remains buried deep under the surface now being ripe for picking apart. It all integrates into the big changes of past updates, streamlining certain mechanics while also just giving you more variety to play around with what you've already built.
There's many more details in the patch's official log, which you can find right here. But if you've been enjoying No Man's Sky since its big rebirth earlier this year, Visions looks like a great new bit of content to chew on for the festive season.
Last Updated: November 22, 2018