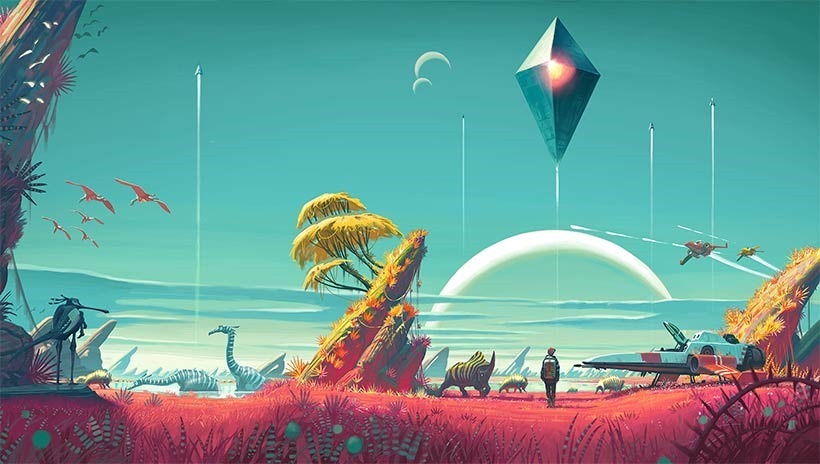 No Man's Sky from Hello Games is one of the most anticipated games coming this year. Set to hit shelves and digital storefronts next month, the enigmatic game is so huge in scope that it's got the gaming public entranced.
And it was almost cancelled. No Man's Sky was officially announced at VGX in 2013. That nearly didn't happen.
"It was a couple of weeks later and it was Christmas Eve and we were all off from work and the whole office flooded. I think we hadn't announced the game because I nearly backed out of [VGX 2013]. I think we might have just canned No Man's Sky because we would have been feeling really unsure it. When we were trying to back out of it, we were like what have we been doing?" Hello Games' Sean Murray told IGN (via Examiner).
If you'll recall, shortly after that announcement Hello Game's Studio flooded, nearly taking No Man's Sky with it.
"It's an awkward thing because we obviously had some backups and things like that, but you lose a lot of work and you couldn't talk about that because generally, we had just announced, people would have been angry [about cancelling the game]. People don't understand that obviously you're a small team," Murray said.
"We came back into the studio Christmas Day and the whole team had kind of reassembled. I'm going to say that the flood was a really good thing that happened to us. We had this thing where we had a team of 10 and there were four people who had gone off into a room and done this thing and six people who kind of watched and [weren't] as involved. Some of them would have felt the same way we did, which is they would have seen the No Man's Sky trailer just before it went out at the VGXs and thought, 'I'm not sure how this is going to go down,'" Murray said.
The flood was obviously a setback, but it was just the thing that the two teams Hello Games needed to come together.
"Then when we came back we were like everyone needs to work on this, we need to ramp up the team. We all want to be working on this. It was a weird thing for [the other six people because they hadn't been involved]…I think the two teams had diverged a little bit. We had a bunch of experiences that they hadn't and they had a bunch of experiences that we hadn't had.

"[We] needed a bonding thing and that's what happened. All of us reassembled to throw out everything in the office, all our old equipment and build all new PCs. We ended up in this tiny little room with 10 of us crammed in there on makeshift desks…There were computer parts everywhere (laughs). It was really bonding. I remember saying to the team, 'yes this is crappy, but imagine what it's going to be like when we walk out on stage at E3 and we show the game in its fullest,'" Murray said.
No Man's Sky is finally coming to the PS4 and PC on June 21, 2016.
Last Updated: May 6, 2016