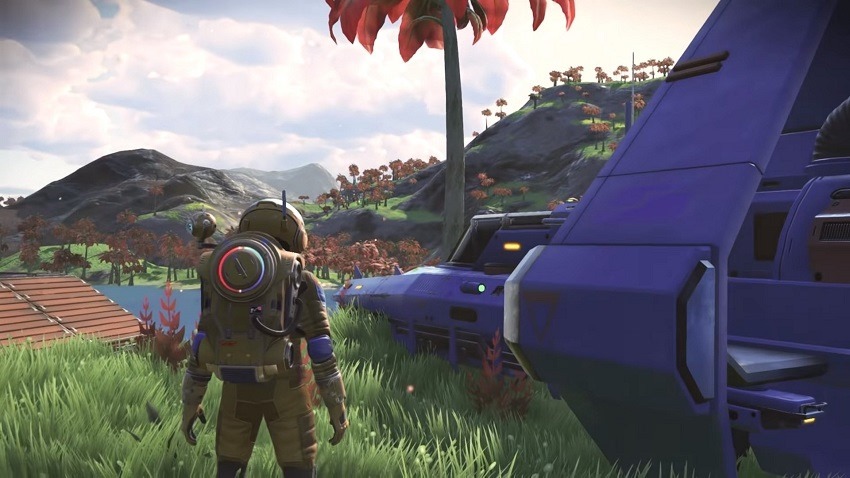 No Man's Sky won't be remembered for its incredibly divisive launch, but Hello Games have ensured that their legacy supporting the game will certainly outweigh any of the negativity it generated. For the past two years, creator Sean Murray and his team of talented developers and artists have been slowly adding to the procedurally generated space explorer in meaningful ways, with three massive updates adding all new avenues of play, additional story content and improvements to the game's existing systems. But with NEXT, all of that hits 11. There's so much happening in this new free update that you could almost mistake for a sequel of sorts.
Perhaps that's best contextualised in the trailer below, which seeks to recreate the very first trailer for No Man's Sky beat for beat with a new perspective. The first thing that will jump out to you is just how drastically different the game looks. Compared to its disappointing first showing on launch day, NEXT adds more vibrancy and beauty to No Man's Sky's universes, aligning better with the pre-release footage that was constantly shown off. There's also the option now to explore this universe in first or third person mode, which makes flight especially exciting.
Of course, No Man's Sky NEXT is also introducing multiplayer – which opens up the doors for even more player-generated stories and space-faring adventures.
There's a lot to unpack in this update this isn't minutely detailed in the trailer, so Sean Murray released a list of the biggest additions heading to the game next week. Base building, which was introduced in an earlier update, has been expanded upon for example, letting you build whatever you want where you want and not limiting you to a single home base. This ties into the game's new Fleet system, which will give you access to massive space freighters that can be used to explore a solar system for you or house your many ships. Friends can be welcomed on-board to create a colony, while enemies can be fended off with space dogfights and on surface battles.
Multiplayer

Team up with a small team of friends and explore the universe together, or be joined by random travelers. You can help friends to stay alive, or prey on others to survive. You can build tiny shelters or complex colonies that are shared for all players. Fight as a pirate or a wingman in epic space battles with friends and enemies. Race exocraft across weird alien terrains, creating race tracks and trails to share online. The character customisation allows you to personalise your appearance.

Visual Overhaul

The game is fully playable in third or first person, both on-foot and in a ship. New Planetary rings and improved space visuals make space more beautiful than ever. Dramatically improved planetary terrain generation, ground textures, water and clouds bring the environment to life. There's also significantly more detail added to ships, NPCs and buildings.

Unlimited Base Building

Bases can now be built anywhere on any planet. Base building has dramatically increased complexity and size limits and we've added hundreds of new base parts. You can also own multiple bases.

Command Freighters

You can assemble and upgrade a fleet of frigates and command them from the bridge of your freighter. Send your fleet out to into the universe, or deploy them to help you as you explore a specific system. The improved freighter base building allows a truly custom capital ship. Invite your friends aboard and take on challenging multiplayer missions from the Galactic Commission Station on your bridge.
There's more to do with player interactions and improvements here than there are changes to the game's core loop of exploration (which itself has seen many changes since launch, all for the better), but it's hard not to read the improvements below and not see how NEXT encapsulates the perceived initial vision for No Man's Sky.
The best part still is that it's all free. NEXT will launch on PC and PS4 as an update next week on July 24th, and be included in the launch on Xbox One taking place on the same day. No Man's Sky has already changed into a game I've enjoyed far more since my initial review, and NEXT is just another excuse to get lost in it again.
Last Updated: July 18, 2018