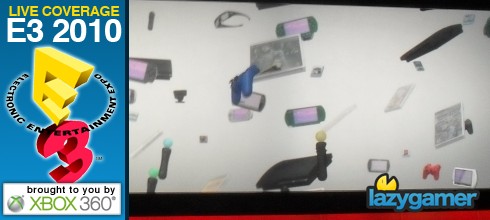 11:55am We've got awesome seats right in the front for the Sony keynote. They have gone all out on this one with an open bar, free food and apparently the entire thing is going to be in 3D.
12:00 lights have dimmed and the crowd goes wild…
We're just watching a huge montage of all the Sony exclusives, devices and things…
PS2 is still in all the montages
Jack Tretton's up on the stage… cracking jokes. Making fun of the poncho's. He's talking about Kevin Butler, it doesn't look like he's going to be coming…
He's talking about their 10 year plan how Sony is going to connect all their systems to create an ecosystem. He's also saying that they are the only ones with integrated WiFi but that's not true since the Wii already does and now the 360 will to. We're going through the exclusives that we already have. God of War, Heavy Rain, Little Big Planet.
Playstation is the most capable and connected platform on the planet according to Jack… now we are meeting Kazuo Hirai… CEO of all things at Sony we care about.
He's talking to us about 3D, innovation and content is what Playstation has always been about. 3D is huge for Sony's future plans and we are now hearing that there are 35 million PS3 in homes around the world which are now 3D enabled.
Wipeout HD, Pain, Motorstorm are all 3D enabled and ready to be downloaded right now. Playstation is bringing authentic 3D to the industry now. Now we are going to be given a view of Killzone 3 in 3D.
Glasses on.. let's see how this works. Graphics are amazing… here's the jetpack. Man this thing is epic. Ash is popping out of the screen, the gun reload and blood is awesomely rendered in 3D. My eyes are seeing this which is incredible as my left eye is a bit buggered. It's not perfect for me but I think it will be for most normal vision people.
No we are in the jetpack, Halo Reach has nothing on this thing. He blasts a bunch of wooden planks away to open a doorway, awesome physics. The size of the levels is amazing, it's hard to believe the entire thing is being rendered in real time (no I don't think it's canned, just saying).
He throws a grenade and the Hellghast start running, awesome looking AI reactions. Now we're on the jump ships coming in hot…  Taking out a huge structure covered in Hellghast. Now we're flying through the mountains, taking out the Hellghast.. and now it's over.
There's some annoyingly loud Americans behind us who are completely over excited… (Update: It was HipHopGamer)
Killzone 3 is coming in February 2011 and will be fully Move compatible. Awesome we are getting some hands on time during E3.
Now Kaz is back and talking about how content drives 3D and not the other way around, PS3 is the only platform with native 3D gaming. Still not sure why no other platform can do this? Possibly they aren't powerful enough?
Gran Turismo 5 in 3D… along with Resistance and Motorstorm. Crysis 2 will be 3D, Mortal Kombat, Shaun White, Ghost Recon, Tron Evolution and NBA 2K11 will all be 3D as well.
The Fight, Eyepet, Tumble and MLB The Show will be 3D and PlayStation Move enabled… here comes more 3D video's.
It's the World Cup? no wait.. it's sports… animals… It's falling PS3 controllers and Moves… It really is awesome looking 3D though… Here come the games. Crysis 2 and Motorstorm.. Motorstorm is fuzzy for me. Eyepet is here, that's perfect… Holy crap the baseball game is incredible. Now it's the Fight and Killzone 3 again.
Move in 3D doing puzzle games, that's cool. Mortal Kombat rocks… 3D makes it better. GT5 looks just like it did, 3D doesn't add much to it for me.
The best of the lot is The Show, that ball is incredible when it comes at you.
Jack's back talking about it's not about how long the lifecycle is but rather how it changes your life while it's there. It's 10 years for the PS2 this year and  there goes the battery.
Last Updated: June 16, 2010