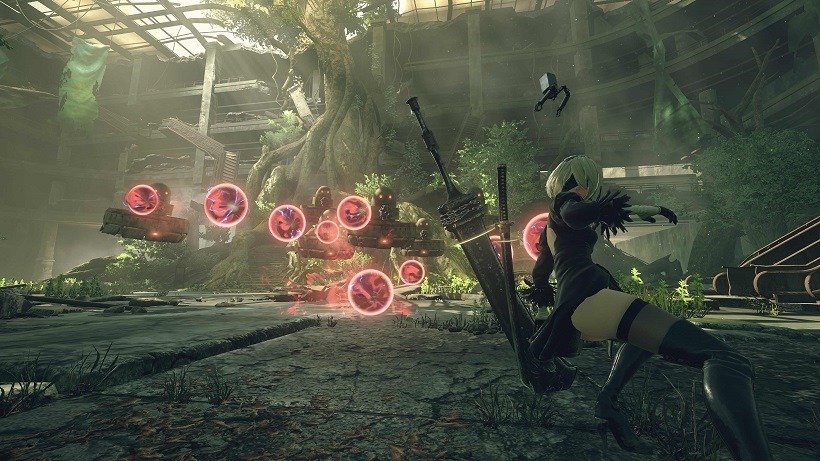 NieR is just one of those games that I've always heard about but never invested the time to actually sample. The original game was hit or miss in many areas, but developed a strong enough cult following that Square Enix greenlit an (arguably) overdue sequel. Automata isn't about the same characters, but it's set in the same weird world. Outfitted with signature fast-paced hack and slash action from Platinum Games, I'm pretty excited to make up for my transgressions and dive head first into it. And you can too, soon.
For those still on the fence about whether Automata really is a Platinum game for them, NieR is getting its own PS4 demo on December 22nd . The demo will apparently take place in an abandoned factory, where characters Android 2B and her companion seek to destroy a weapon that lies hidden within. It sounds a lot like the gameplay demo that was shown off at E3 earlier this year, but whether that's changed drastically is yet to be seen.
If that all sounds like nonsense, well then the plot for NieR likely won't make much sense. The original NieR introduced players to a world where humanity had retreated to the moon, leaving androids to battle an invading robot force in their stead. It's the kind of weak move you'd expect from our future selves, but it does present a different looking world to explore. Like the first game, Automata will be a mix of hack and slash with RPG elements, even allowing open-world exploration and many side activities to take part in.
Honestly I'm getting major Enslaved vibes from this, and considering I loved that it's clear Automata is speaking to me on an intimate level. I'm also a fan of Platinum and their fast-paced action games, and seeing some familiar mechanics (that witch time slowdown from Bayonetta) gives me faith that they're at least more on track here than in more recent releases. NieR Automata is out in March next year.
Last Updated: December 9, 2016