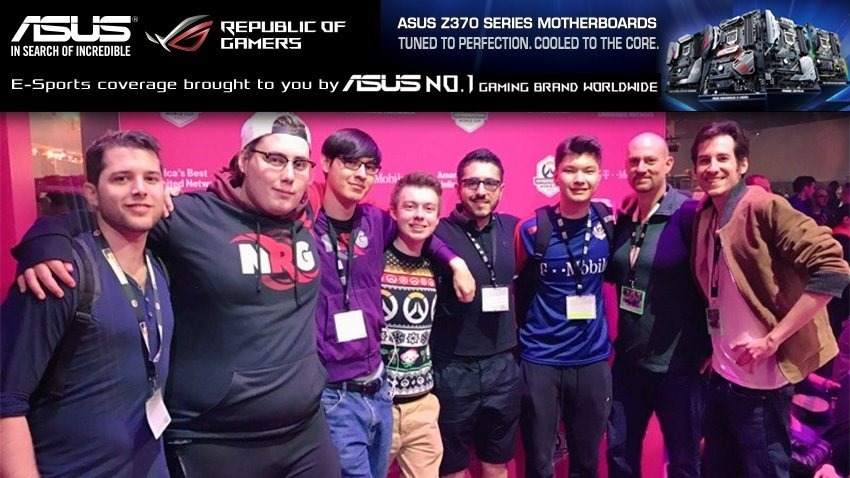 Max Bateman, third from the left, has been fired by NRG Esports after allegations of sexual assault
I don't know what it is with esports industry folk and the terrible treatment of women lately. Of course, we had our own our own local drama, which was followed by reports of domestic abuse from Chinese League of Legends player Li "Vasilii" Wei Jun.
Now, a former manager for NRG Esports and the team manager for its Overwatch League team The San Francisco Shock, has been accused of sexual assault. I say former because NRG has, given the circumstances, done the right thing and given him the boot. According to the allegations by Twitch streamer Dezaray Luna, Maxwell Bateman took advantage of her without her consent.
In an extended Tweet (via Twitlonger), Luna detailed what happened after she had shared an evening with one of her "closest friends," that may have resulted in a spiked drink.
"At this point I was in and out of consciousness. I remember Max laying next to me but didn't think anything of it because we've shared a bed in the past and nothing's happened.That's when he sexually assaulted me. In my mind I knew what was happening wasn't right but I couldn't move. I was frozen. After I woke up I got my keys from his car and he dropped me off at home. A few days after I started remembering more of what happened I confronted him through text-messages and told him what happened the other night wasn't okay- that we were friends and nothing more. He even admits what he did wasn't right and that I never gave him permission to do this in any way."
Further to that, Batemen has apparently admitted his impropriety, leaning on the excuse that he believed she was sober.
In case anyone thinks I'm lying or just trying to seek attention here are some texts between us after everything happened pic.twitter.com/KtWcUbVRg3

— кrуѕтℓιи (@Krystlin) November 6, 2017
Unfortunately, police don't seem to want to do very much about it – but at least his employers have. As for Bateman himself, he says he'll be posting a statement tomorrow.
I'll be posting my statement tomorrow so I can answer everyone's questions

— Maxwell Bateman (@Hotaruz) November 7, 2017
Like esports?
Check out esports central
Last Updated: November 7, 2017