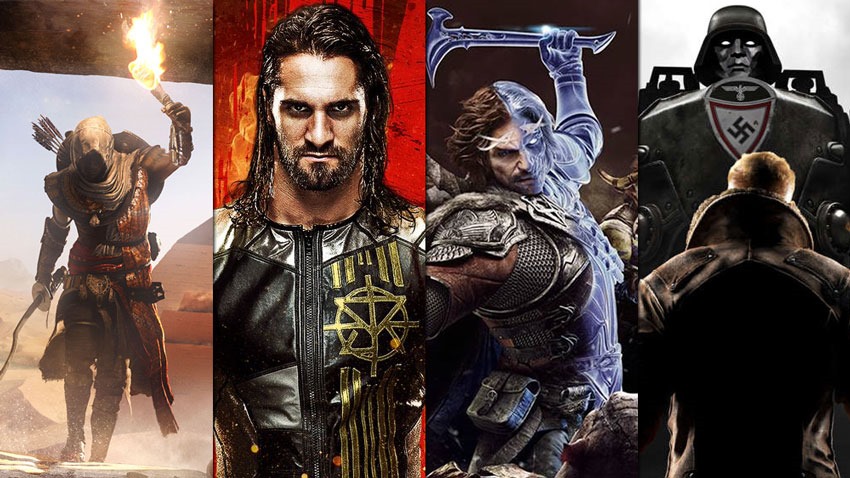 Around the end of the year, just about everybody is flush with cash. Now I've never encountered this mythical "13th cheque" that I've heard my friends boast about, so I can only assume that it's a sequel to a really fantastic Antonio Banderas movie. Point is, the final quarter of the year is usually reserved for the biggest guns that a game studio has in their arsenal.
The blockbusters of summer, the tentpole franchises that studios bankroll to the tune of many millions of dollars in terms of marketing alone. Imagine then, the current super-powered arms race between movie studios and comic book movies. Imagine if you will, seeing Justice League, Avengers: Infinity War and Hellboy 3 rocking up on the exact same weekend to battle it out.
I'd cream my pants with enough explosive force to usher in a new extinction-level event for the planet, but the point is that October 27 specifically is going to be an absolutely insane day for anyone who wants to choose just a single game to have on launch day. It's pretty much like having a James Bond villain asking me which testicle I'd like to keep before he smashes in all three of them with a heavy knotted rope.
Just look at the October schedule:
Battle Chasers: Nightwar (PC, PS4, Switch) – October 3
Forza 7 (PC, Xbox One) – October 3
Star Wars: Battlefront 2 pre-order beta (PC, PS4, Xbox One) – October 4 [Ed Note: Yes, this is a beta, but still might eat up all your gaming time]
Star Wars: Battlefront 2 open beta (PC, PS4, Xbox One) – October 6
Middle-earth: Shadow of War (PC, PS4, Xbox One) – October 10
The Evil Within 2 (PC, PS4, Xbox One) – October 13
Gran Turismo Sport (PS4) – October 17
South Park: The Fractured But Whole – (PC, PS4, Xbox One) – October 17
Elex (PC, PS4, Xbox One) – October 17
WWE 2K18 (PS4, Xbox One) – October 17
Destiny 2 (PC) – October 24
Nights of Azure 2: Bride of the New Moon (PS4, PC, Switch) – October 24
Assassin's Creed: Origins (PC, PS4, Xbox One) – October 27
Super Mario Odyssey (Switch) – October 27
Wolfenstein 2: The New Colossus (PC, PS4, Xbox One) – October 27
Fallout 4 VR (HTC Vive) – October
Mad, right? I've got a novel idea regarding the October slate: Maybe it's wise to shelve the FOMO and just be patient for a bit. Hell, I only just recently got Shadow of More Doors for a steal on Xbox One and that was properly brilliant stuff. I'm also banking on several of the October releases playing chicken, steering off the October road and taking a January/February detour.
While I doubt that Shadow of Mordor will delay itself a second time and that Ubisoft is confident enough to keep Assassin's Creed locked into its release date, I'd bet easy money that Wolfenstein II: The New Colossus and The Evil Within 2 decide to not take a chance with sales fate. Who do you reckon will blink first in October?
Last Updated: July 14, 2017