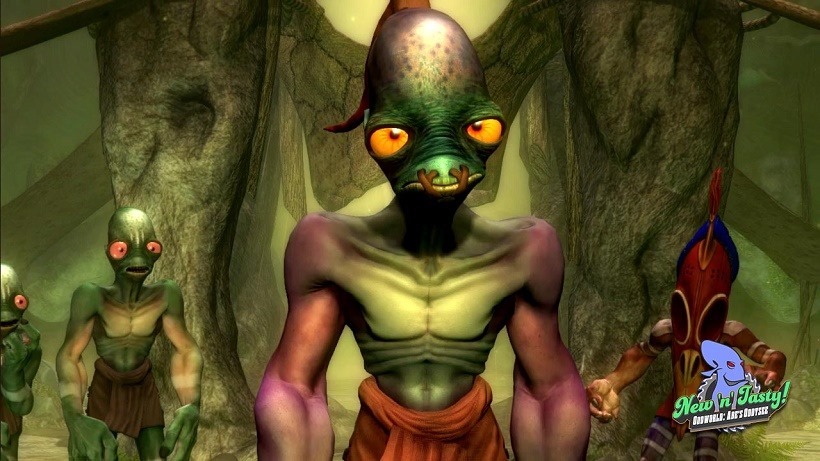 One of my favourite games of all time is without a doubt, Abe's Oddysee. For reasons I still don't entirely understand though, I've not yet gotten around to playing the 2014 remake, New 'n' Tasty. It's something I really, really need to rectify because the platformer, according to everything I've heard, is as good (and possibly better) today as it was back in 1997.
The only thing holding me back now really, is deciding what platform to play New 'n' Tasty on. It's available on Steam, Xbox One, PlayStation 3 (and 4), and now for the first time, the PlayStation Vita. Finally, Abe's epic adventure is pocket sized (via VG247).
Explore ancient ruins, dodge carnivorous beasts and avoid trigger-happy hunting parties as Abe, the original Oddworld hero in this lovingly recrafted take on PlayStation® classic Abe's Oddysee.

Once a happy floor waxer in Oddworld's biggest meat processing plant, Abe stumbles across his boss's secret plan to turn the factory's slave labour force into the latest in the RuptureFarms Tasty Treats line of novelty meat snacks. Abe now has to save his own skin from the grinders even if simply escaping the flesh farm is only the start of his Oddysee. Many dangers await Abe on his journey to discover his people's heritage.

Built from the ground up, enjoy breathtaking visuals, enhanced audio and improved, deeper gameplay as New 'n' Tasty reignites the original Oddworld game using the latest next-generation technology.
What's really neat is that New 'n' Tasty has cross-buy included. If you've already purchased the game on the PS3 or PS4, the Vita version is yours for free! If not, well, the cost of admission is only R299 Randelas, which isn't too bad at all.
I think I may actually grabbed New 'n' Tasty a while back on PS+. I sure hope I did, because I really need to dust off my Vita and make use of it!
Last Updated: January 20, 2016