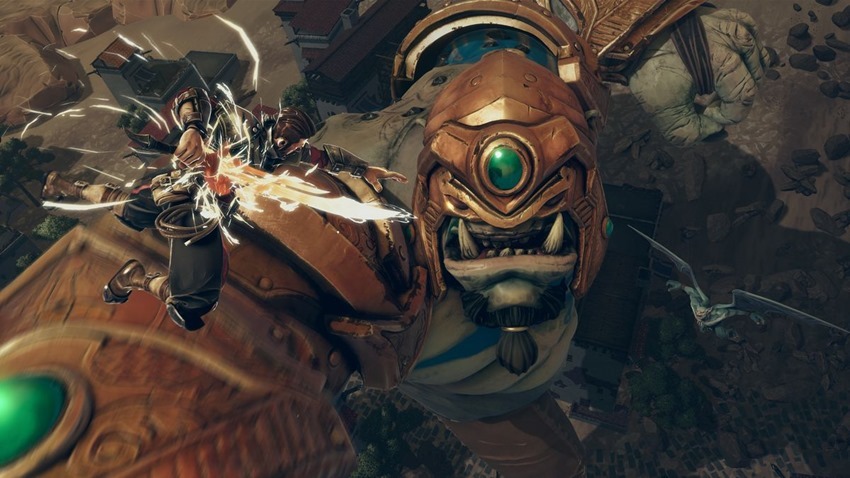 Iron Galaxy's Ogre-slaying game Extinction becomes a little more interesting with each bit of information. There's a new trailer for the game, which starts off with the increasingly important news that you'll not find a single microtransaction in the game, which is refreshing in a time when games are stuffed with them.
That's not solely what the trailer is about though, as it dives into what makes the game unique. Taking the developer's previous experience with fighting games (they helped with Killer Instinct on the Xbox One), the game features skill-based combat that includes s few fighting game staples like cancels, along with switches between sloe and AoE effect attacks.
The game is all about usings trategy and cunning to fell great big beasties, riffing on Shadow of the Colossus' need to scale them before taking them down. Key to this is thr Rune Strike, a powerful attack that allows our hero Avil to dismember the great big lumbering ogres.
Extinction is due set release on PS4, PC, and Xbox One on April 10.
"The world of Extinction has always been at war with itself. When a giant portal opens in the land of Dolorum, the massive threats only spoken of in children's fairy tales suddenly come to life. Our hero in this story is named Avil, a new trainee inducted into an ancient order known as the Sentinels, dedicated to preserving the knowledge of the monstrous threats called Ravenii – and the techniques to eliminate them. Unfortunately, the Sentinel order has degraded over the years and Avil is now the last hope for humanity."
Last Updated: February 15, 2018