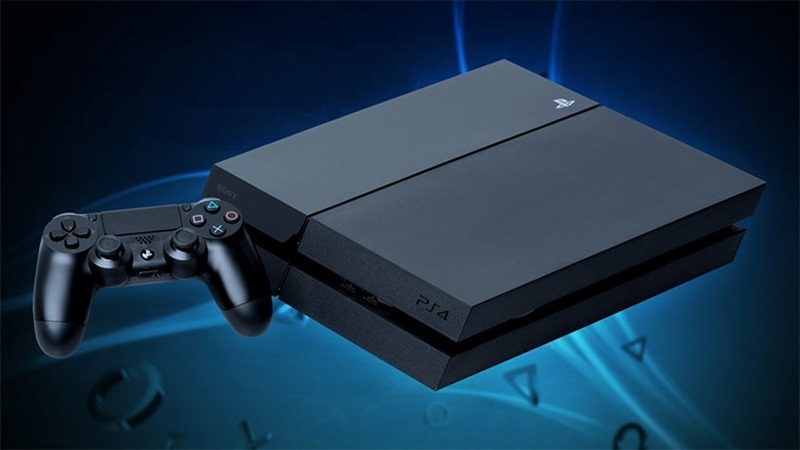 A very long Power Point presentation seems to have leaked all over the internet, detailing the PlayStation 4 Neo and how it'll work. It's worth noting that though the document appears to be legitimate, it also seems to be a few months old – predating Sony Computer Entertainment's name change to Sony Interactive Entertainment.
It seems to be the very same document that landed in the hands of Giantbomb and Eurogamer in April this year – so in truth there's really very little new information beyond what we saw in reports around then.
The document confirms that the PlayStation Neo as it stood then used the same "Jaguar" cores as the original PlayStation 4, clocked 1.3x higher at 2.1GHz. The GPU? Gets a 2.3x boost, offering 36 GCN compute units clocked at 911MHz.There's no real change to the amount of memory the PlayStation 4 Neo will have, though memory throughput will be at 218 gigabits per second, compared to the current PS4's 174 gigabits per second. All together the system promises just under 4.2 Teraflops of computing power.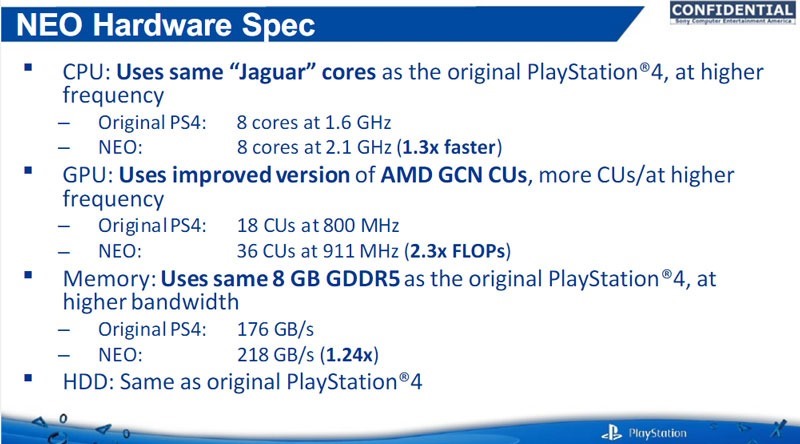 In handy table format:
| | Base PS4 | PS4K Neo | Boost |
| --- | --- | --- | --- |
| CPU | Eight Jaguar cores clocked at 1.6GHz | Eight Jaguar cores clocked at 2.1GHz | 1.3x |
| GPU | 18 Radeon GCN compute units at 800MHz | 36 'improved' GCN compute units at 911MHz | 2.3x FLOPs |
| Memory | 8GB GDDR5 at 176GB/s | 8GB GDDR5 at 218GB/s | 24% more bandwidth, 512MB more useable memory |
Future PlayStation 4 games would be required to support both the base and Neo versions of the PlayStation 4, with developers opting to patch old games to support the Neo system at their discretion. The Neo would allow for more raw horsepower, giving games better visual fidelity, faster framerates and higher resolutions – but not much else.  It seems designed to give 4K TV owners something worth having, and the document makes no mention of PlayStation VR whatsoever.
Microsoft has promised that it's Scorpio – coming a year later than PlayStation 4 Neo – will deliver 6 Teraflops of horsepower, making it significantly more powerful than Sony's on mid-generation refresh. Since E3, it's been rumoured that Sony opted to not show its Neo after Microsoft revealed its more powerful new console, showing us more of Days Gone instead. That's nonsense though, as Andrew House said days before E3 that Neo would be a no show.
The document suggests that the PS4 Neo would be out towards the end of this year, which is far too late to make any hardware changes to match the Microsoft's new machine.
Last Updated: July 15, 2016