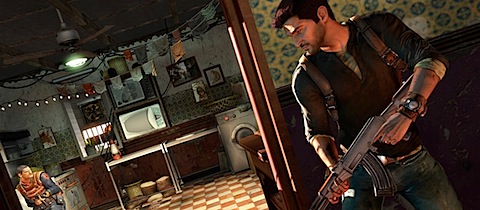 So I'm sure that by now most of you guys are aware of the impending Uncharted: Drake's Fortune movie. So show some appreciation but the truth is that we're all here for the games.
So keeping that in mind I can imagine how stoked some of you may be for the new Uncharted 2. Well stand by for even more awesomeness since Evan Wells of Naughty Dog had this to say about the new title:
The single player campaign is definitely going to be longer than Uncharted: Drake's Fortune. We have over 90 minutes of cinematics alone! And of course we have the competitve and co-op multiplayer modes too… For me, it's the overall cinematic presentation and the quality of storytelling we've been able to achieve. It's really a tribute to everyone's efforts, because all elements of the game have to come together to create a really seamless cinematic experience. We're always striving to push the envelope and break new ground in cinematic storytelling, so it's been really gratifying to see how excited people are about this aspect of the game
I'm uber stoked guys and girls especially since we know the gameplay is proven and the storytelling is insane, its just getting that much better.
Source: ps3centre & playstationlifestyle
Last Updated: July 2, 2009