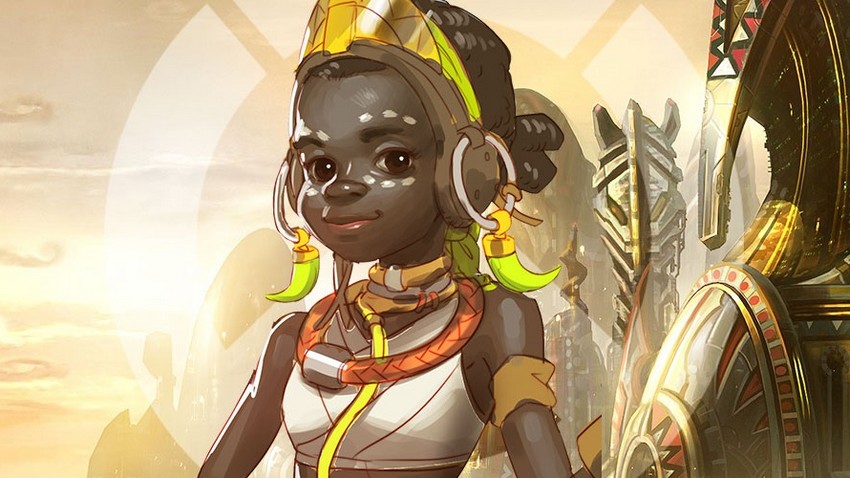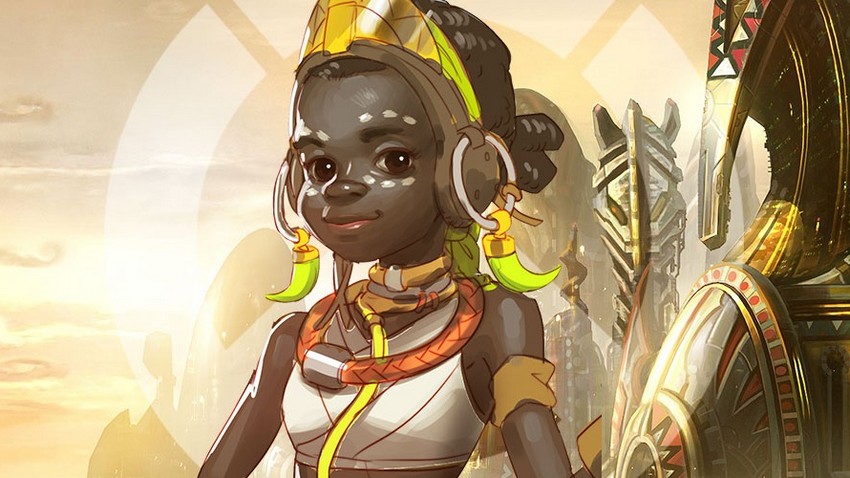 Yesterday we heard the news of Blizzard teasing a new Overwatch character in the form of 11-year old Numbani super-genius Efi. The reveal of Efi, through a "fake" interview, certainly got fans talking. And while some were just talking utterly disgusting trash (seriously, Internet, what the hell is wrong with you?!) the majority were wondering just how Blizzard could introduce her into the game. Last time I checked, people didn't take too kindly to a video game where you have to either kill or be killed by prepubescent African girl. So how can Efi be a hero? Simple. She won't be. Not directly, at least.
With Efi being touted as some kind of robotics genius, and hailing from Numbani, the mecca of the Overwatch universe's cybernetic Omnics, the current theory is that she won't engage in combat herself, but rather work through a remote-controlled robotic proxy. A robotic proxy that's all spider-like and named Anchora. That description and name wasna't just pulled from thin air. Early in the year, a 4Chan post claimed to have leaked information about an upcoming Overwatch event that would be centred around the Chinese Year of the Rooster. That, of course, is exactly what happened, as the Chinese New Year was used for the game's latest seasonal event. That very same 4Chan post also rumoured that Overwatch's 24th hero would not be Doomfist, as so many had speculated, but instead be a spider-shaped tank codenamed Archon, which "spoke" with a West-African accent.
That certainly appears to fit with the little we know about Efi – Archon is probably an Omnic she built and controls remotely. Further to that, as Kotaku reports, we've already seen a spider-like robot that matches that description, as one appears in very tiny form in the Sombra origin video. Here's a screencap in which I've circled the blink and you miss it robot, which coincidentally has a line connecting it to the gauntlet of Doomfist, a hero that hailed from Numbani as well.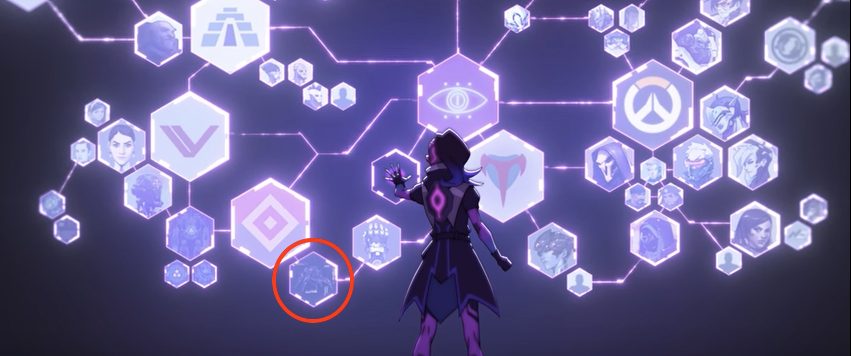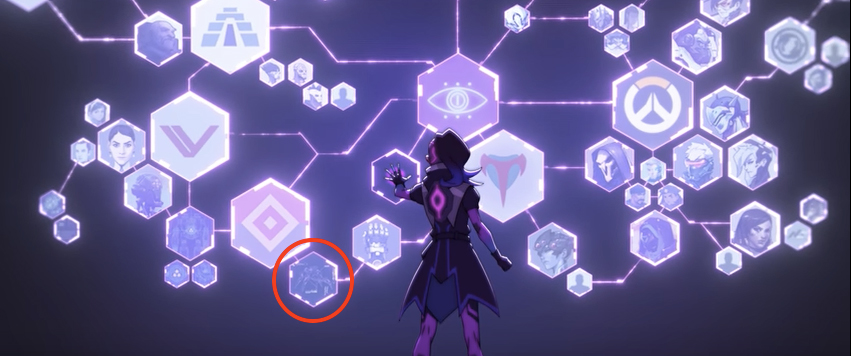 This robot spider tank also put in an appearance yesterday during Blizzard's showing at the DICE Summit yesterday, showing up in the background in a piece of artwork that was also used at Blizzcon last year. And here it can clearly be seen fighting for/against the Overwatch heroes.
Now as overwhelming as all this evidence may appear, I have to point out that the 4Chan leak that kicked off this conspiracy theory snowball, also got a lot of details wrong about the Year of the Rooster event, so it's possible it did the same about Archon. If that's even the name of this spider-robot. If there even is a spider-robot!
I am willing to bet that there's a fair amount of truth hidden under all the speculation though. With recent comments from Blizzard suggesting that they got really burnt with the excessively drawn-out Sombra reveal and not wanting to repeat those mistakes, I have a feeling that we aren't going to get concrete confirmation either way right up until the verge of the new character being revealed.
If it is going to be the team of Efi and Archon, I am very intrigued to see how Blizzard implements this remote control mechanic. Will Efi just hang around in spawn or perhaps be nothing more than a disembodied voice? There will also be the need to overcome obvious comparisons with Tiny Tina from Borderlands, another young girl genius character in a game who builds robots and has them fight for her (and also happens to be completely loony!). Blizzard are masters at interesting character creation though, so I have faith that this could be really cool.
UPDATE: Since the time of writing, there's been some further development. Firstly, regarding the image above reportedly showing what could be Archon, Overwatch lead designer Jeff Kaplan directly addressed it during his DICE presentation (via PCGamesN). In the clip below, you can hear Kaplan directly address their community on Reddit, where lots of these theories are born, about this image to indicate that "the hero in the centre, is not the hero you think it is".
That doesn't mean our robot spider dreams are squashed though! As has been pointed out by numerous sources, a spider-like robot can clearly be seen on the right hand side of a very early piece of artwork showing what was at the time a mockup of Overwatch's roster. The same image appeared again yesterday in Kaplan's DICE talk. This very same robot is also seen in the first cinematic that was produced for the game, and it showed up again in later artwork showing the Overwatch heroes in battle.
And to add to that, Kaplan wasn't done yet in teasing us, as in a chat with Polygon after his DICE talk, he sorta kinda directly confirmed what we had been speculating about Efi herself not actually being playable in-game.
"Efi will play a part of the next playable character's story, but that character has not been confirmed."
In other words, the "Next Overwatch hero will be a giant spider robot tank created by Efi" theory still lives! For now!
Last Updated: February 23, 2017