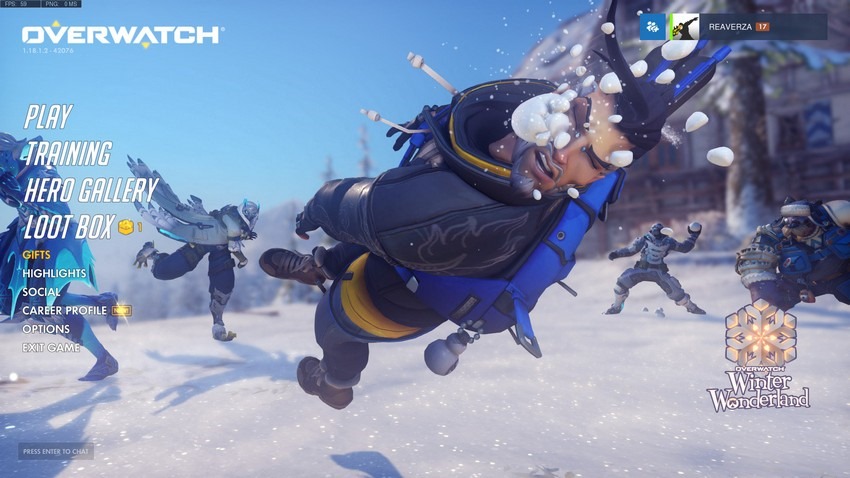 Thanks to the universe generally just hating me [Ed: Not just the universe, buddy], I missed out on an opportunity to have my very first white Christmas this year. I was livid. Luckily, I can still get to throw snowballs and have some wintery tomfoolery thanks to Overwatch, as the latest update for Blizzard's multiplayer shooter went live last night. As previously announced, this update brings with it the return of Winter Wonderland, a timed seasonal event that will see players jingling all the way through some snowy game modes while sporting some brand new skins. Winter Wonderland will be available for players as of last night until 1 January, so that's a good couple of weeks of snowy mayhem as you can see below in the official video.
Mei's Snowball Offensive from the first Winter Wonderland will be returning, but now has its map roster expanded to include a new wintery skinned Black Forest to go with the Echo Point Antarctica map. The headline act, so to speak, will be the new 5v1 Yeti Hunt Game mode, which Blizzard describes in detail below.
This season's Brawl is a 5v1 experience, pitting five Mei 'Hunters' against one 'Yeti' Winston. The Yeti must kill the Hunters five times to win; the Hunters must kill the Yeti once to claim victory. The Brawl takes place on a reskinned Nepal Village map—the perfectly snowy setting for a Yeti battle.

Yeti Winston has increased health and armor, making him a formidable foe. Meat packs are sprinkled around the map for him, which will fuel his ultimate. Mei has her usual abilities, but her Ice Wall and Ice Block times are reduced… and while she can freeze Yeti Winston, there's one catch—she can only freeze him in Rage mode.
That sounds and looks like a lot of fun. Speaking of looks, Winter Wonderland brings with it seven new legendary skins for Ana, Bastion, Hanzo, Junkrat, Roadhog, Soldier-76, and Sombra. I must say that with the exception of the rather bland Bastion (though I don't think he's ever had a really great skin) I'm loving all of these. "Casual" Hanzo is sure to be a favourite, and I really dig the nice touch of putting the Australian Junkrat in beachwear because that's how us Southern Hemisphere folk know Christmas! Check them all out in the gallery below.
Along with the Winter Wonderland game modes and skins, Blizzard are also using this update to roll a couple of very important tweaks (see the full patch notes here). The first is a brand new reporting system, which should hopefully help to curb the game's toxicity problem (mostly prevalent on PC) by increasing the visibility and awareness of infractions:
Players being reported will receive an in-game message letting them know that they have been reported, along with a warning concerning continued negative behavior. Ongoing misconduct will result in silence, suspension, or a permanent ban, depending on the severity of the infraction (in severe cases, players may receive their punishment before receiving the initial in-game message).
Players who report someone for poor behavior, resulting in a disciplinary action, will now be notified with an in-game message when the issue has been resolved. We take every report seriously, along with your feedback. Thank you for your patience as we continue to fine tune these systems.
Besides for the player reporting, there are also two small character tweaks that could potentially big ramifications. The first is the fix to Doomfist's Rocket Punch which we spoke about recently, which should allow the African bruiser to feel far more consistent thanks to the game now being more lenient with registering the angle of attack on his one-shot kill punch.
While we knew that tweak was coming, Mei actually gets a surprising buff. Previously when hit with Ana's anti-healing grenade, Mei could not use Cryo Freeze to regenerate her health in the same way that Roadhog couldn't use Take a Breather to do the same. However, now when Mei goes into Cryo Freeze it shakes off the effects of the anti-healing, much like how Reaper's Wraith form also allows him to shake off status effects. I'm not so sure about this buff though, as Mei can already be a nightmare to play against with all the defensive tools at her disposal. Removing her ability to undo any damage you had been doing to her was one of the most effective tools when facing her, but now that's gone. We'll have to just wait and see how this shakes things up in the game.
Last Updated: December 13, 2017