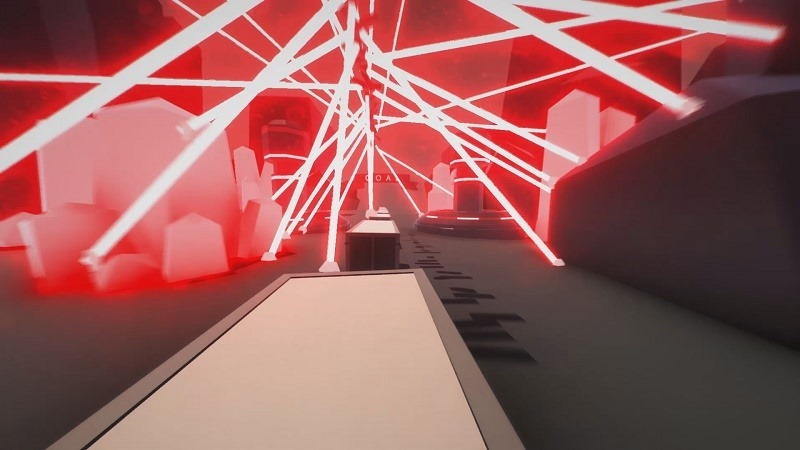 Clustertruck? That sure does sound like clusterfu… oh!
We've got no shortage of first-person parkour games today. Mirrors Edge for example lets you partake in rooftop shenanigans, while Dying Light does the same (to an extent), albeit with dozens of zombies thrown into the mix just to keep you on your toes. Hell, even the likes of Titanfall and Call of Duty have both found ways to make speed and movement an important part of their gameplay.
I think it's safe to say though that we've never quite seen anything like Clustertruck (via RockPaperShotgun). Forget your fear of heights, or your fear of the undead – this game will have you avoiding far worse!
Clustertruck is a new kind of platformer on-top of a speeding highway! Use agility and acrobatics through insane levels in a game of "the floor is lava" on top of unpredictable, speeding trucks! The game only gets harder when dangers such as swinging hammers, lasers and flamethrowers are added!
A campaign mode which gradually gets more and more evil
Unlock new abilities like the Grappling Hook, Truck Cannon and Time-Control!
An in-game level editor
Steam workshop support for sharing player-made levels
A replay system
Online leader boards
The movement in Clustertruck strongly reminds me of that which we see in Counter-Strike's plethora of surf maps. Ridiculous speeds? You bet! Trucks crashing and flipping, accompanied by all manner of "natural" hazards? Well, that sure is new. Oh, and let's not forget all the extra gadgets too which will make navigating the crazy levels (hopefully) a little easier.
If Clustertruck looks like your cup of tea, good news, it's already out on Steam. It'll cost you just R159 for dozens of levels of madness! I don't know about you, but it's definitely going onto my wishlist. I'll get around to playing it for sure when I have both the time and money.
Last Updated: September 28, 2016