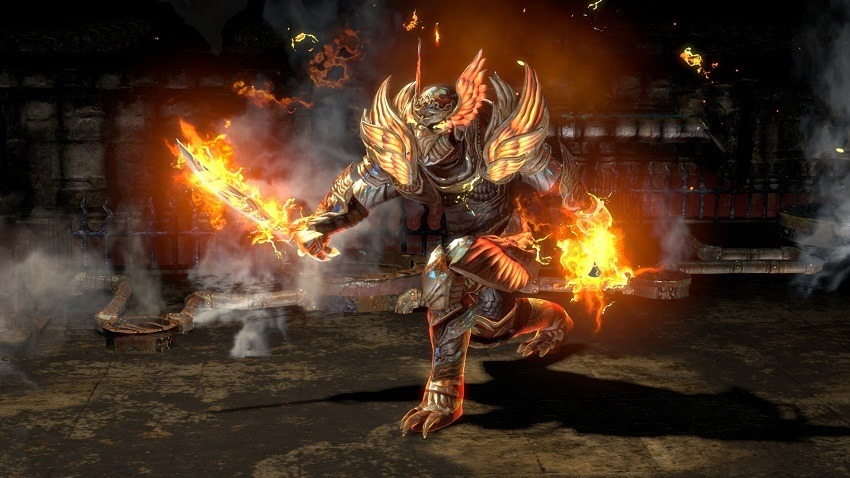 If you still feel hard done by after Blizzard didn't announce Diablo IV this past weekend (and instead set the forums alight with a new mobile incarnation), then it's a good time to remind you of Path of Exile. You know, the action RPG that is basically a living, breathing spiritual successor to Diablo II, and has been so popular since its beta that players of Diablo III were even calling it superior in comparison. Path of Exile has been out for years on PC, and has already come to Xbox One. But next month, you'll finally be able to raid its dungeons on PS4.
The free-to-play ARPG will launch on Sony's console along with the publishing of their big  3.5.0 patch next month, which should help the 16 million player strong base expand to even greater heights with the support of the leading console hardware on the market. Path of Exile has been long overdue for PS4, launching o Xbox One more than a year ago.
Path of Exile retains the same tried and true gameplay from the Diablo series, but treats Diablo II as its primary source for inspiration. That helps its darker grittier art style and slightly more hardcore mechanics, but without losing that sense of familiarity. Path of Exile also boasts a massive skill tree that truly lets you experiment with your builds and abilities, and doesn't invade its gameplay with any sorts of in-game currency purchases. Instead, players can barter currency items with each other so that you can purchase whole new ones. Don't let the label of free-to-play convince you that there hasn't been some adept balancing to make it all feel fair over the years.
Blizzard is definitely working on Diablo IV, and given how well its previous entry in the demon slaying franchise did on consoles it's no question that it'll head to the leading hardware at the time. But for now Path of Exile is a great, arguably even better solution, so don't miss it.
Last Updated: November 6, 2018