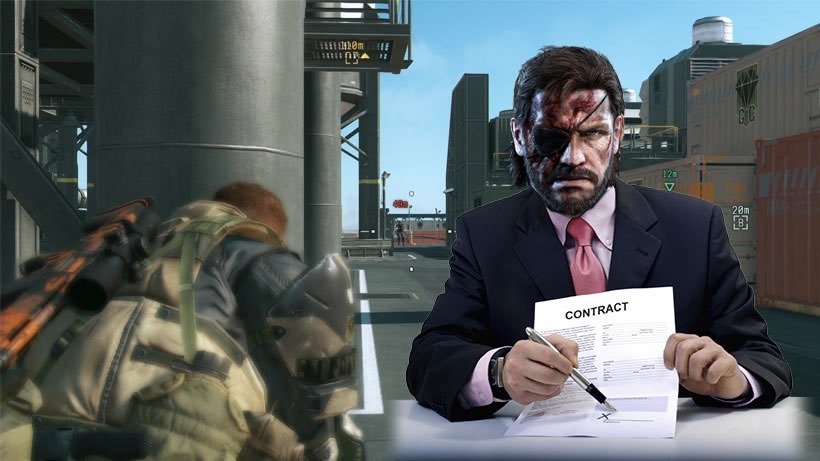 Metal Gear Online has launched, bringing larger scale multiplayer to The Phantom Pain, and if it works as advertised, it should be quite a bit of fun. The new update brings with it a fair few other changes and additions to the base game, but there's one that's caught my eye, and it affects an aspect of the game I'm not particularly fond of.
Forward Operating Bases, or FOBS's are a major component of the game, and in the later stages, open you up to attack from other online players who can steal your stuff and injure or kill your security staff. You're pen to do the same, which then in turn opens you up to revenge. I don't like it much, and it's especially annoying when all of the materials I've worked hard to stockpile end up being thiefed.
There's now a solution to that, and I wish I had made it up, because it's ridiculous. You can now, by paying real money, insure your Forward Operating Bases. If you sign up for video game insurance you can mitigate the effects of an infiltration. You'll pay for insurance using the MB coins that you can earn through daily bonuses, but that also cost real world money. Stuff like Staff and nukes aren't covered.
Your FOBs are always at risk of coming under attack. Now, you can rest easy with FOB insurance (paid service). If you sign up for insurance, then during the insurance period you will be compensated for any materials and staff lost due to rival infiltrations.
Staff/materials stolen by the rival will in fact remain on your base, and an identical amount of staff/materials will be handed over to the rival instead.
MB Coins are purchased with real money, but free MB Coins are also distributed periodically as login bonuses, etc.
The following are not covered by FOB insurance:
Staff/items that are not fully your property, such as abducted staff being held in your Brig (FOB)
Wounded staff (staff lost due to death or extraction will be compensated)
Staff used by you to deploy in defense of the FOB (neither death nor extraction will be compensated)
Nuclear weapons
This…doesn't quite sit right for me. It's something that has been available to players of certain MMO's, particularly in Asian regions where they take their online gaming as seriously as they do life, but it's weird to see it implemented in a retail game. It's odd, and I can't say I like the precedent it sets. This is microtransactions taken to a whole other level. That's not even the end of it. You can now pay MB coins to speed up the construction of your FOBs, which you pay MB coins for in the first place. Honestly, I think Konami's starting to take the piss.
[Update]
Here's how much it costs:
50 coins – one day coverage
100 coins – three day coverage
200 coins – seven day coverage
300 coins – fourteen day coverage
Last Updated: October 6, 2015