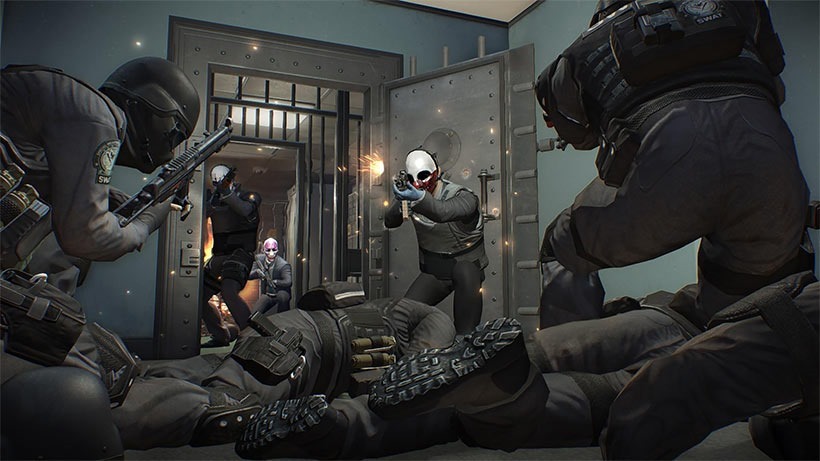 Microtransactions suck, but they're especially heinous when they involve any sort of mechanics that help players with credit cards win. That's exactly what's happened with Heat PayDay 2, Overkill's bank-robbing simulator. What makes it especially egregious is that months ago, Overkill said that they'd never add microtransactions that could hurt the balance of the game.
Two years ago, on the game's Steam page, Overkill had this to say.
"The Steam page for Payday 2 has been updated based on your feedback," they wrote in May 2013. "We've made it clear that Payday 2 will have no microtransactions whatsoever (shame on you if you thought otherwise!)"
The shame now rests with Overkill, as they've implemented some pretty shady MTs. Launching alongside the game's new Black Market update comes a new Drill microtransaction which goes a…*ahem* bit too far. By paying for the drill, you're able to crack open safes, which contain weapon skins that can change gameplay enough for it to seem like a pay-to-win scenario. They're linked, like the stuff in Team Fortress 2 and Counter Strike, to Valves community market, so they're being sold and bought for real money.
It's making people really rather angry, and the official Reddit thread is awash with fans who're on the verge of exploding.
"Yep I'm officially done with this game. Played for about a year and logged 302 hours into it, bought all the DLCs, but now I'm fucking done. What a trainwreck; gg Overkill."

"Looks like the target of their new heist is us. They are trying to rob us blind," says another.
You can read much more salty swearing here, if you're so inclined.
Last Updated: October 16, 2015