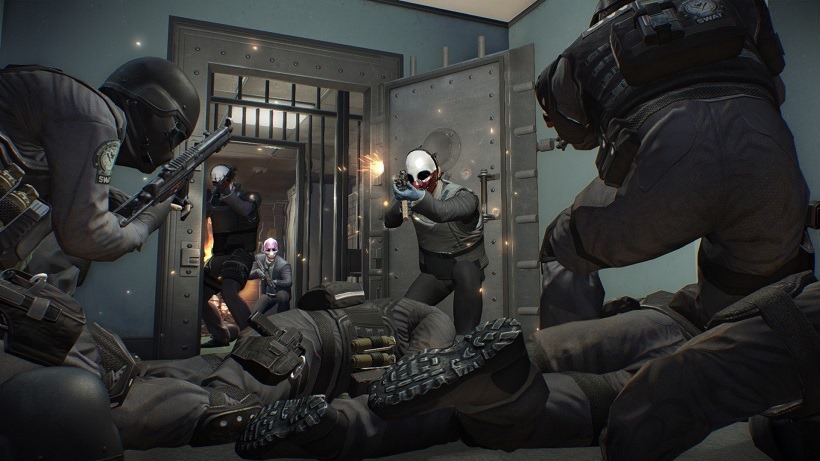 PayDay 2 might have had its image tarnished a little with the massive debacle around the post-launch microtransactions, but underneath that lay an exceptionally addictive multiplayer shooter that is still widely played today. So it's no surprise that the rights to the franchise are still worth a pretty penny to someone like Starbreeze, who yesterday announced their purchase of the series from 505 Games. And that PayDay 3 would be coming sooner rather than later.
The announcement was made during the sale, with Starbreeze purchasing the rights to the franchise for what may seem like a small $30 million. They'll start taking in profits from the Steam version of the game from next month, while console sales will still be split between them and 505 Games (like it currently is). PayDay 3 will still see some profits go towards 505 Games as part of the deal, but only once the title has made back development costs. And only to the sum of $40 million after that.
Starbreeze CEO Bo Andersson Klint believes that there's still so much the franchise can achieve, but understands the importance of continuing support for current players.
Payday is very close to my heart, and has laid the foundation for Starbreeze success in recent years. We're very excited to bring our heisters home to the safe house. To start with, we believe in the continued success of Payday 2 and will support it for at least another 18 months continuing expanding the game.
Along with that, Starbreeze also has plans to remove the pesky microtransactions in PayDay 2 that really didn't sit well with players, and should implement that in the near future. It's a bright one too for PayDay if this news is anything to go by, and it looks like Starbreeze really does know what it wants to do with the franchise. But better still, they seem to know what fans want too.
Last Updated: May 31, 2016