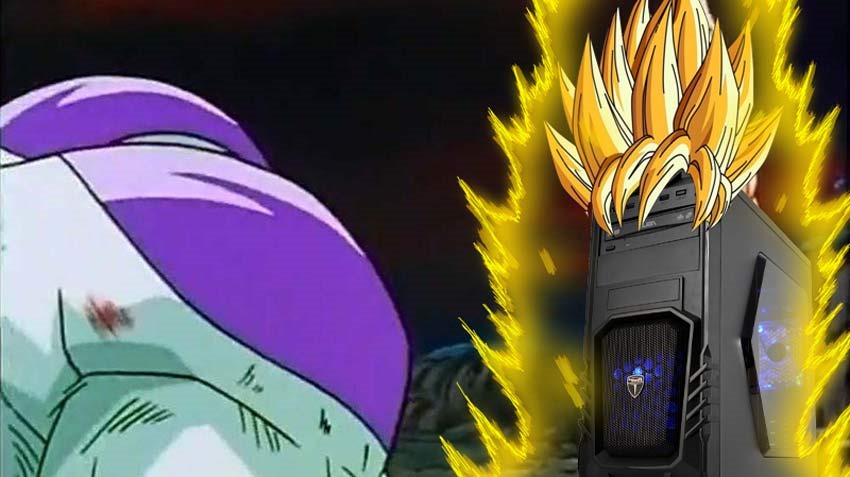 See this? This is my regular base PC form which sits at around 8GB of RAM and a decent Radeon Sapphire graphics card. Then I take things a step further and swap in an Nvidia Geforce 1070 graphics card for a super power-up. Now pay attention, because I'll soon go a step upward with an Ascended Nvidia card in the form of a Geforce 1080 Ti. AND THIS…IS WHAT IT MEANS…TO GO EVEN FURTHER BEYOND! SLOTTING IN A VOODOO GRAPHICS ACCELERATOR 3000 NOW! YEAAAAAAAAAAAAAAAARRRRRGHHHHH!
With Dragon Ball FighterZ a mere couple of weeks away from release, publisher Bandai Namco is prepping for the release of what could be the finest fighting game of 2018 already. It's fluid, every single visual looks like it was ripped straight from the manga and developer Arc System Works looks set to walk away with a winner at the start of 2018.
That being said, can your PC handle Dragon Ball FighterZ? Well take a gander below at the requirements for the absurdly-titled brawler, courtesy of Banana Tango Bandai Namco: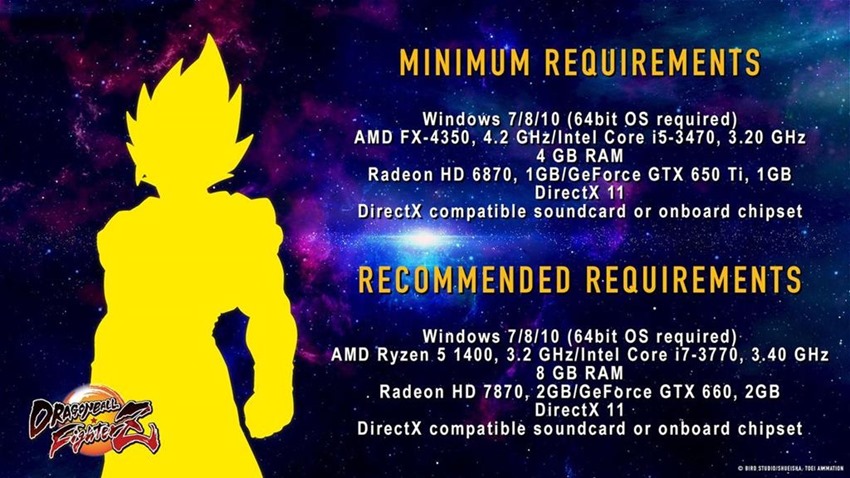 Minimum Requirements:
Windows 7/8/10 (64bit OS required)
AMD FX-4350, 4.2 GHz/Intel core i5-3470, 3.20 GHZ 4GB RAM
Radeon HD 6870, 1GB / GeForce GTX 650 Ti, 1GB DirectX 11
DirectX compatible soundcard or onboard chipset
Recommended Requirements:
Windows 7/8/10 (64bit OS required)
AMD Ryzen 5 1400, 3.2 GHz / Intel Core i7-3770, 3.40 GHz 8GB RAM
Radeon HD 7870, 2GB / GeForce GTX 660, 2GB DirectX 11
DirectX compatible soundcard or onboard chipset
That's actually a decent set of specs which won't tax your PC rig too heavily during bouts of crypto-coin mining. On a visual level, Dragon Ball FighterZ is more focused on speed and flashy attacks, rather than adding a ludicrous amount of details to random pebbles on the ground. In fact, if you've ever played one of Arc System Works' recent Unreal 4 Engine-powered Guilty Gear games, you should be good to go.
Also, you really should go play Guilty Gear. It's fantastic and you'll soon learn the terror of my Chip Zanuff skills. Zanuff said. Dragon Ball FighterZ officially powers up for 15 episodes on January 26. As a pre-order bonus, players can nab early access to Goku and Vegeta's Super Saiyan Blue transformations, as well as a few exclusive chibi avatars for the game lobby.
Last Updated: January 8, 2018