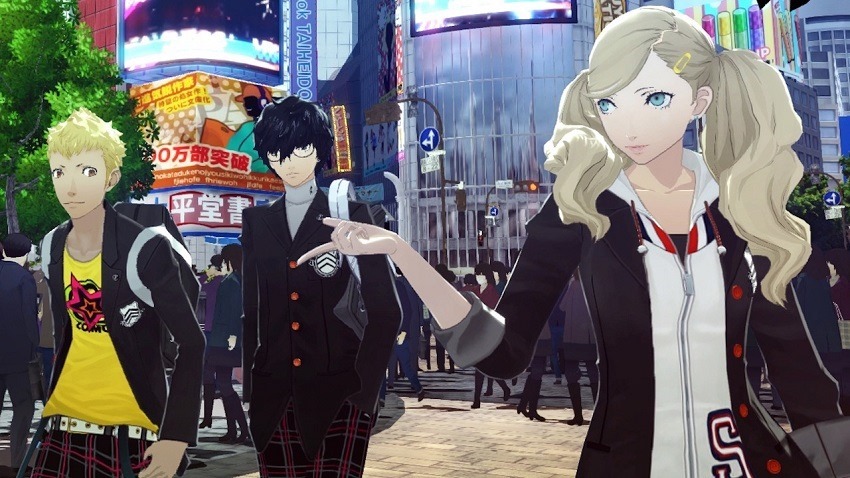 Persona as a series hasn't really made a mark on the broader gaming audience, despite a strong cult following for both Persona 3 and 4 in East and West. The Atlus-developed sequel has been out in Japan since September last year, slowly letting the anticipation for the English release in April bubble up to a boiling point. So forgive me if the game's latest trailer doesn't just tip things overboard, with a host of new footage making the next few weeks an agonising wait.
If you're unfamiliar to the series, a few titbits might fly right over your head. You'll again take control of a nameless transfer student in a new city, although a much larger one in this more expansive sequel. Our hero has some mysterious dark past this time, which ties neatly into the darker tone that most of the visual imagery and soundtrack take in nearly every showing of the game. I mean, remember the fact that you're going to torture and kill Personas this time to fuse them? Nasty.
The reel itself doesn't really stick to one portion of the game for too long, but it's a neat way to get a look at some in-game cinematics (which are gorgeously animated yet again), some familiar sounding combat notes and the ever stylish menus and presentation. There's a lot to recognise for returning fans, but just enough to pique some new interest as well. I'm especially excited to see daily side activities seemingly being fleshed out a little more, instead of the usually "click next" text boxes.
Persona 5 has the chance to really bring the series into a new mainstream light, something which is seemingly not lost on Atlus with one of the final lines of the trailer. And if some early, in-depth previews suggest, that's exactly what will happen in just under a month's time.
Last Updated: March 7, 2017