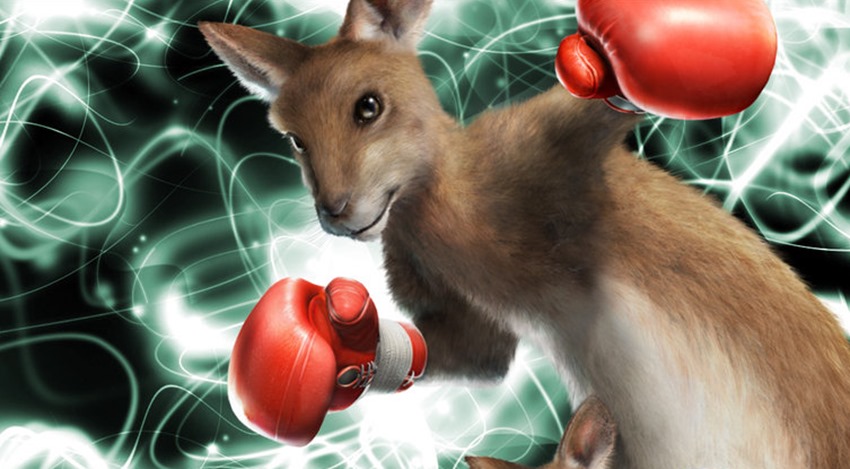 The kangaroo is an odd animal. A marsupial from a continent that was apparently designed by lunatics on nightmare fuel, the Kangaroo is a survivor and an icon of Australia. They've been around since the dawn of time and just like the roaches in Joe's apartment, they'll probably still be hopping around after our species is long gone.
It's somewhat fitting then, that Kangaroos have had a long history in popular culture. From being unlockable in Streets of Rage 3/Bare Knuckle 3 and other stuff that escapes my mind right now (sorry Skippy), the most famous 'roo of them all is easily Roger from the Tekken series. Lean, mean and with a left hook that can shatter any jaw, he happens to be a favourite in any Tekken game that he hops into. Except Tekken 7. You can thank animal rights activists for that.
"There was a video of a man's dog being headlocked by a kangaroo, and he punched it in the face," Tekken 7 executive producer Katsuhiro Harada said to VG247 last week.
It turned into a big problem. People were complaining about him punching a kangaroo. It seems that in the last few years there's a lot more animal activists – even though they probably wouldn't play our game they would still hear about that, about a kangaroo in our game being punched, and would complain about it.
While the grizzly Kuma is still in Tekken 7 because each paw swipe is strong enough to be classified as an extinction event, Roger is out for the count then. International and somewhat unhinged at times animal rights group People for the Ethical Treatment of Animals is of course, super chuffed about all of this. "PETA trusts in players' ability to understand that the kangaroo in Tekken 7 wasn't real, so no animal was in danger—but the outcry over even virtual violence toward a kangaroo shows that today's public is opposed to cruelty to animals," said PETA Vice President of Marketing Joel Bartlett to Glixel.
When real-life kangaroos and bears are still being dragged from town to town and bullied into performing circus tricks, video games can help move us toward a kinder future by celebrating animals instead of depicting harm to them. Just as Jun Kazama and the WWWC [Tekken's in-game wildlife protection organization] fight for animals in the world of Tekken, we ask that people join PETA in standing up for animals in the real world.
That's a surprisingly balanced opinion from an organisation that once went out of its way to demonise Pokémon and Warhammer. Maybe the world is changing for the better then. Still, I'm somewhat sad that the latest incarnation of Roger is absent from Tekken 7. I'm going to go sate my love for Australia by throwing that silly stick I found in Oz that always manages to come flying back at me.
Last Updated: May 2, 2017