Retro is somewhat in style again lately. With the point 'n click adventure games of years past having made a comeback, so have the more hardcore RPGs of your childhood that shaped and defined you. With Pillars of Eternity having proven that there's still one hell of a demand out there for ye olde text-heavy role-playing action when it hit crowdfunding platforms a few years back, a sequel was inevitable.
And that sequel has been greenlit. Thanks to Polygon for buggering up their schedule and breaking embargo (and which NeoGAF screen-capped), we've now got a first look at the next game in the series: Pillars of Eternity 2: Deadfire. Here's the synopsis for it from Polygon's 404 page which will probably be working properly in a few hours: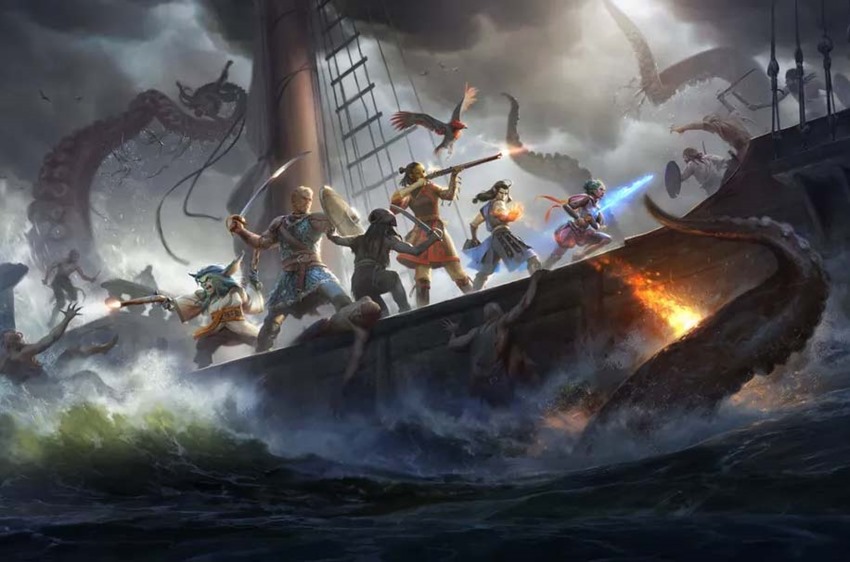 The team at Obsidian Entertainment is going back to the well, announcing Pillars of Eternity 2: Deadfire as a high-profile, equity crowdfunding effort through Fig. The campaign goes live today, and is seeking at least $1.1 million, with $2.25 million open for equity.

Pillars of Eternity 2: Deadfire promises to pick up where that game left off. A direct sequel, it promises to take the statue of Caed Nua, previously conceived as an elaborate sidequest funded in large part by Kickstarter backers, and turn it into the centerpiece of the entire game.
"Eothas … the god of light and rebirth was thought dead, but he now inhabits the stone titan that sat buried under your keep, Caed Nua, for millennia," reads a press release.

"Ripping his way out of the ground, he destroys your stronghold and leaves you at the brink of death. To save your soul, you must track down the wayward god and demand answers — answers which could throw mortals and the gods themselves into chaos."

The campaign promises players the ability to travel by both land and sea, where they'll encounter new cultures and environments. Non-player characters will keep their own schedule, which will lead to dynamic quests. Some old party members will even return.
Obsidian even alludes to the fact that players may be able to carry over their save files from the original game to "continue the story you began as the Watcher of Caed Nua … and see how your decisions and actions in the Dyrwood persist in Deadfire."
Sounds kinda rad, and ready to tickle my nostalgia with a +20 roll of the initiative. Expect a proper trailer and more screens, when the embargo for this info is up.
Last Updated: January 26, 2017