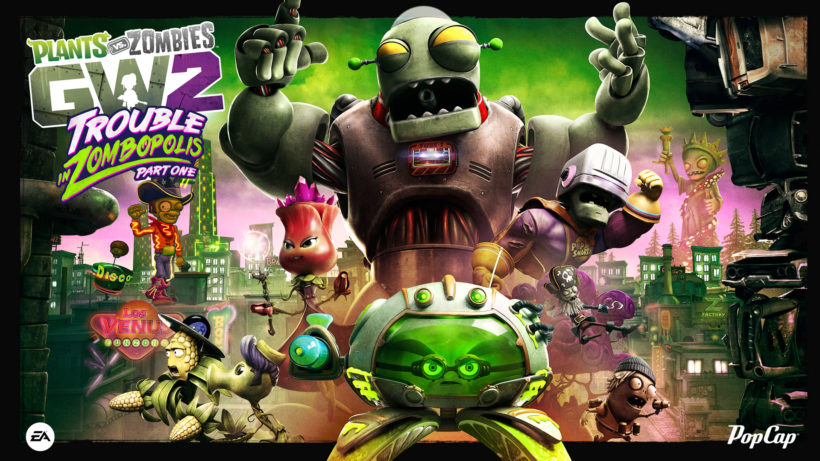 Plants Vs. Zombies: Garden Warfare 2 is buckets of stupid fun. EA's sequel to the first game from 2014 will most likely be buried in some fresh soil this year when the likes of Overwatch and Paragon arrives, and that's a shame because it's easily one of the best team-based hero shooters you can grab today. And that's because it has plenty of free content to help pad it out.
The last big patch to Plants Vs. Zombies: Garden Warfare 2 introduced some substantial tweaking that knocked a few thorns off of Rose and spruced up the rest of the Garden and Undead fighters. A few ideas were introduced, software tweaks smoothed the game further and the war raged on. The next big patch is going to take things a step further however, as Popcap announced that Zombopolis: Part One will add in two new characters, a new massive map and over "1200 new character customisation items".
And I'd just finished my sticker collection, you buggers. Here's the full list from the press release, copied and pasted below:
Trouble in Zombopolis is free for all players and releases just in time for summer on Xbox One, PlayStation 4 and Origin on PC. Players can jump into the biggest zombie map ever built – Zombopolis – and battle their way through dark, undiscovered sewers and down the Brain Street Strip. New heroes Toxic Citron and Breakfast Brainz face off in the ultimate showdown while Dr. Zomboss hatches an evil plan to exterminate plant-kind.
Trouble in Zombopolis: Part One Content and Features
The all-new Herbal Assault Map, Zombopolis; the capital city for the zombies, featuring an all-new mini boss battle
Two brand new characters to collect: Breakfast Brainz and Toxic Citron
Over 1,200 new crazy customisation items to unlock in the Zany Zombopolis Pack
Character balancing and gameplay improvements
Boat Blast shooting gallery in the Backyard Battleground with leaderboards
And yes, all of this for free. Not a sign of a season pass being thrown in your face, anywhere. Plants Vs. Zombies: Garden Warfare 2 is out right now. And it's some of the best fun you can have when you're looking to see if fresh produce can fend off a zombie apocalypse.
Last Updated: May 18, 2016