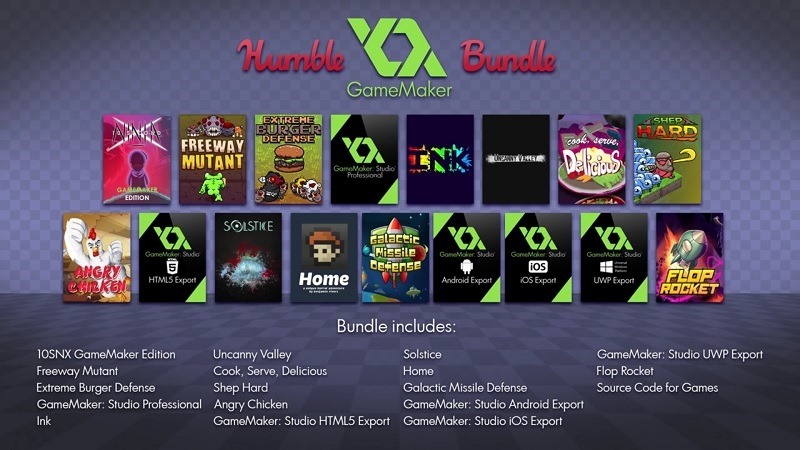 The latest Humble Bundle has somewhat of a twist. Sure, it's still filled to the brim with loads of different awesome games, but it also happens to have the means to actually make them.
Basically, If you've ever wanted to try your hand at developing your own piece of playable art, then you should look no further than the Humble GameMaker Bundle. Check it out:
Bundled fresh at the source. GameMaker is back at Humble with a full bundle of software, games, and source files to help you realize your most ambitious game dreams!

Pay what you want for Extreme Burger Defense Source Code; Freeway Mutant Source Code; Uncanny Valley; Cook, Serve, Delicious; Ink; Shep Hard + Source Code; Angry Chicken: Egg Madness! + Source Code; and GameMaker Studio Pro. Pay $1 or more to unlock Steam and GameMaker keys, and receive a coupon for 10% off Humble Monthly for new subscribers. Pay more than the average price and you'll also get Uncanny Valley Source Code; Ink Source Code; Galactic Missile Defense + Source Code; HTML5 Module; 10 Second Ninja X GameMaker Edition Source Code; Solstice; Home; Cook, Serve, Delicious! Source Code; and a 40% off coupon for 10 Second Ninja X.

Pay $15 or more for all of that plus Android Module, iOS Module, Windows UWP Module, Flop Rocket + Source Code, Solstice Source Code, and Home Source Code.
Seeing as Alessandro is in the business of making games (one day), I asked him if he would be grabbing this bundle. "Definitely," was his response. "$15 for all those libraries is a steal. Game maker is normally around R1000 just for the base program."
He's not wrong. All the content of Humble GameMaker Bundle tallies up to a whopping $1885! All if it can be yours for just $15 however. That's a measly R210 based on the current exchange rate, which you can split however you want between YoYo Games, Humble themselves, and a charity (Doctors Without Borders).
If you have no interest in developing games (if you are, head over to MakeGamesSA), or if you just happen to want something for free, you can still benefit from this bundle. Extreme Burger Defense, Freeway Mutant, and a 10 Second Ninja X GameMaker Edition demo can be grabbed at the all time low cost of ABSOLUTELY NOTHING. Interested? All you need to do is submit your email address over the Humble GameMaker Bundle page.
Last Updated: September 7, 2016