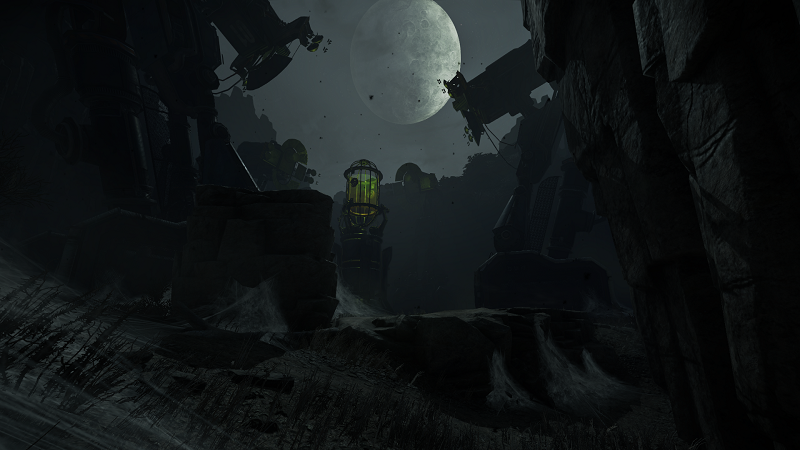 Evolve got a second wind of sorts when it went free to play last month. The player base spiked significantly, up to a very respectable 50 000+  people.
Unfortunately, numbers have dwindled somewhat since then, down to 15 000 or so (according to the latest Steam chart). Turtle Rock are dedicated to keeping their shooter alive however, by any means necessary. Going free to play was just the first step. The next was to release regular and improved content based on community feedback.
Their latest update certainly has my attention. It's called 'The Deepest Dark', and it features a brand new co-op mode (via Destructoid):
Unlike your typical 4v1 Hunt, The Deepest Dark is a linear 4-player co-op experience built within the Evolve universe. For now, players will access the operation as a new map variant within the Co-op vs. AI matchmaking queue, but the experience is much more than the other recently released map variants. It's potentially the seed from which more co-op vs. AI ops (or maybe even a campaign of ops) could grow from.
A campaign? Hell yes, I like the sound of that! Though I'll miss being able to play as the monster, there's just something enticing about following a story set in this universe – with a couple of friends along for the ride. It makes me think of Evolve as something more along the lines of Left 4 Dead, which is a franchise I dabble with regularly to this day.
So, what's this new mission about? Here's the premise, along with the new trailer.
At the start of the operation, the Hunters are greeted by an ominous voice setting the scene and alluding to the events that have led to the Queen of Gorgons taking over a Wraith containment facility and the surrounding area. As the team makes their way to the Queen's lair, they'll face hordes of infected wildlife and Gorgon minions that spawn from the Queen's eggs. Can the Hunters survive and take down the Queen of Gorgons to uncover why she's on Shear?
I uninstalled Evolve about a month after I got it, and I've never once regretted it. Now though, with all this new content, I am honestly contemplating a reinstall.
I only hope Turtle Rock continue to listen to the community, and release content accordingly. I know I'm happy with the direction they're taking their shooter.
What about you? Does 'The Deepest Dark' appeal to you at all? Or are you still burnt by Evolve's first coming, to the point that you'll never, ever go back to playing it?
Last Updated: August 25, 2016