Pokémon GO might not be as popular today compared to when it first launched, but it's still making several truckloads of money. According to a report from data firm Newzoo, the game continues to pull in a casual $2 million a day (via VG247).
As impressive as that is, $2 million a day is a far cry from where Pokemon GO was a few weeks ago however. At one point early on in its life, its earnings peaked at a whopping $16 million per day.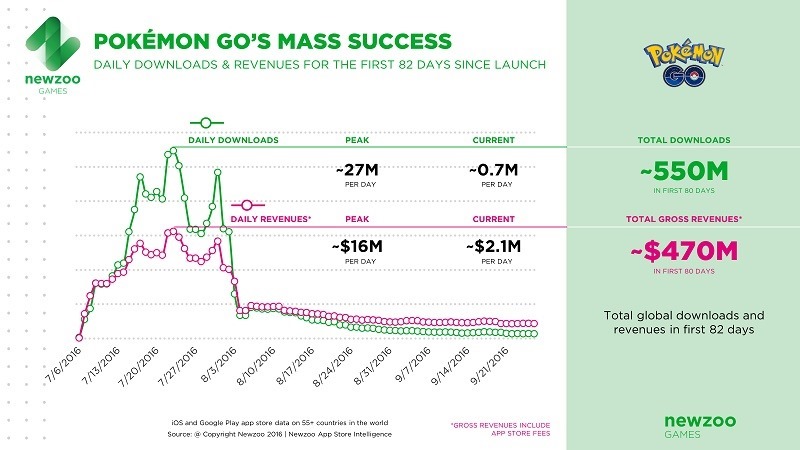 "Pokémon GO has opened our eyes in many ways," commented Newzoo CEO Peter Warman. "It has refreshed the top grossing mobile game ranking that has been dominated by a small number of publishers and games for a long time. It has proven beyond a doubt that AR can be applied in ways that appeal to a mass audience."

"Equally important from a business perspective, it has given Niantic investor Google enormous insight and data that it can incorporate into its location-based advertising and services strategy. The fact that Pokémon GO has motivated kids and youngsters to spend more time outside is an additional bonus, even if that means they take their screens with them."
Pokemon GO opened up the eyes of many to be honest. I mean, $470 million dollars total gross revenue in just 80 days?  That's nothing short of astronomical!  I don't think anybody could've foreseen the game's success, at least not to this degree.
Niantic have their work cut out for them though if they want to maintain this momentum. Don't get me wrong, Pokémon GO will always have its core fan base, but unless new features are released regularly for example, that daily income will stay at $2 million (or drop even lower), when it could be way, way more.
Last Updated: October 4, 2016