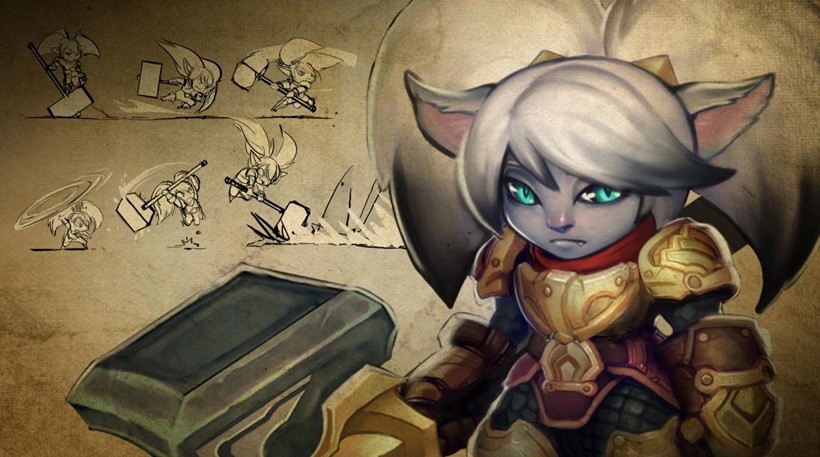 Last week, I told you all about Poppy, the Keeper of the Hammer, getting a rework for League of Legends. This week, I'm sharing a spotlight video from Riot, which details all her various abilities, and exactly how they should be used to make this teeny champion a force to be reckoned with.
But first, why did Poppy get a rework? I didn't even know she existed, at least not until I saw that she was getting rejiggered to fit the MOBA better. That to me is reason enough to give her an overhaul, because she clearly wasn't being picked often. That, or I've been utterly blind and ignoring her completely.
That's just my own experience and thoughts on the matter though. What's the actual reason for Riot giving her a spit and polish? Here's a brief summary:
We started exploring Poppy more than a year ago. With her outdated visuals and awkward, imbalanced kit, she's long been a candidate for a champion update, but getting it right meant expanding on the limited things we knew about her (she had fewer than twenty lines in game) while finding a new gameplay design that would fit with her character and satisfy fans of the little-yordle-that-could.
And Riot seem to have found the right balance. She has been reworked, and now plays in the following way…
I'm incredibly fond of that ultimate ability – Keeper's Verdict . It reminds me strongly of the Dragon Knight ability in Heroes of the Storm, where the beast is capable of disrupting a 5-player team entirely by sending one of their members skyward and away from the battle. That same ability in League of Legends is incredibly devastating in comparison, as team fights can be over in a matter of seconds.
What do you think of Poppy's new skill-set? Are you happy with the changes Riot have given her?
Last Updated: December 8, 2015