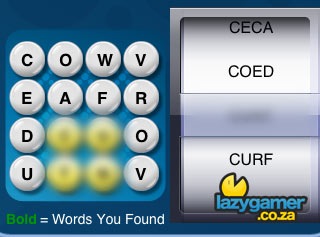 The iPhone is quickly becoming one of the most popular platforms for quick and easy games on the go.
One such game, which was released just a short while ago is a new word puzzle game that goes by the name of Scramble. How Scramble basically works is that you have little circles with letters in them on a 4×4 or 5×5 grid, and you have to create words from the letters that are linked to each other. At the end of the round, the game gives you a list of all possible words that could have been made and it was in this menu screen that I stumbled on something rather scary.
Was it the "F-Bomb" that I stumbled across? Hell no, it was the type of word that will very often attract a slap to your face and one that is so taboo that even Hollywood stays the hell away from it. So what's the word?
I can't show you here, but click through to see the screenshot that I snapped and in case you didn't read the title, this is definitely not safe for work.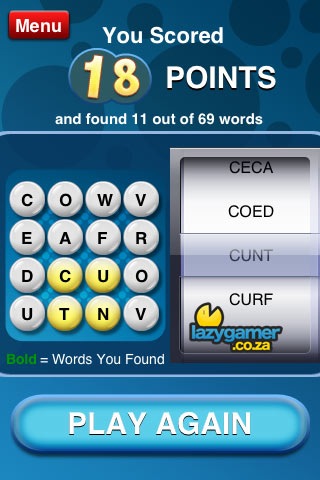 The worst part is that games like this are offered to children as learning tools all the time, and while the game is very addictive and great for language skills, one must wonder if the developers put enough time into double checking the word database that was used.
I found a few other dodgy words whilst playing the game as well, although nothing quite as bad as this one.
Last Updated: April 14, 2009