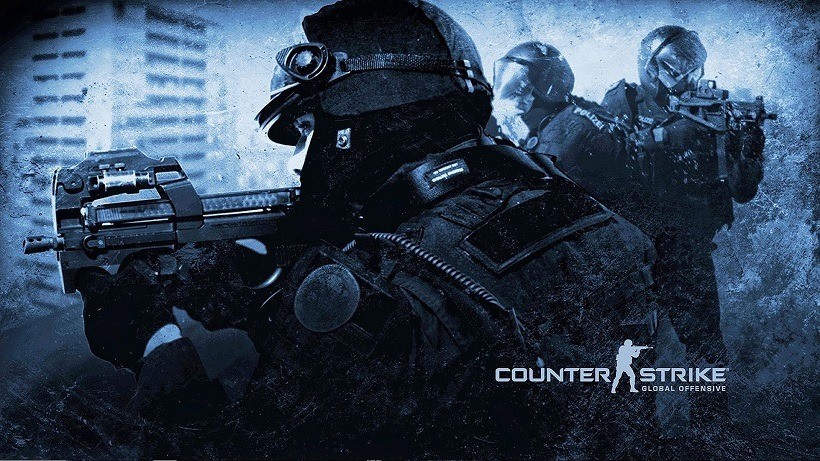 After each major tournament, such as the conclusion of ELEAGUE Season 1, Valve takes a good, hard look at what needs to be changed in their quest to make CS:GO Great Again. Mind you, CS:GO is great, I just wanted to use that slogan. However, there is the undying need to improve on any mechanic which they feel takes the game away from it's natural form, and yesterday Valve served up a curve ball for the CS:GO competitive community.
Spray control became an important feature with CS:GO, where teams would use controlled spray patterns to take duels against their opponents from short to long range. Many players perfected it, and it became synonymous with professional play styles. That has all changed now as Valve have increase "tap" accuracy with the latest patch.
Accuracy Recovery Rate
Accuracy recovery rate determines how quickly the accuracy of a weapon returns to its baseline value after firing. It was previously expressed as a fixed value, but is now split into initial and final values.

Now shorter firing sequences can be designed to recover accuracy faster than longer ones, and the recovery rate for tapping/bursting/spraying can be tuned independently.
TL;DR: This promotes tapping instead of spraying as an accurate one tap will recover your weapon faster, making for a second quick tap straight to the head.
Valve states that the aim here (get it?) is to promote tapping and controlled bursts, something most players originally did, but moved to controlled spray downs as the changes rolled out. This was true for the AK-47, M4A4, and M4A1-s.
AK-47, M4A1-S, M4A4
To start, we're shipping new values for the AK-47, M4A1-S, and M4A4.

These three weapons are now slightly more accurate while tapping/bursting than before. Individual bullets can be fired more quickly without sacrificing accuracy, and accuracy recovers more rapidly after short firing sequences. Spraying is still advantageous in many engagements, but has the trade-offs of slightly worse accuracy towards the end of the spray and slightly slower recovery afterward.
TL;DR: Tapping is beneficial, bursting is good, spraying is alright, but you should be cautious as the accuracy recovery might not be in your favour.
Valve offered two graphs with the "before" and "after" effects of the most popular rifle: the AK-47.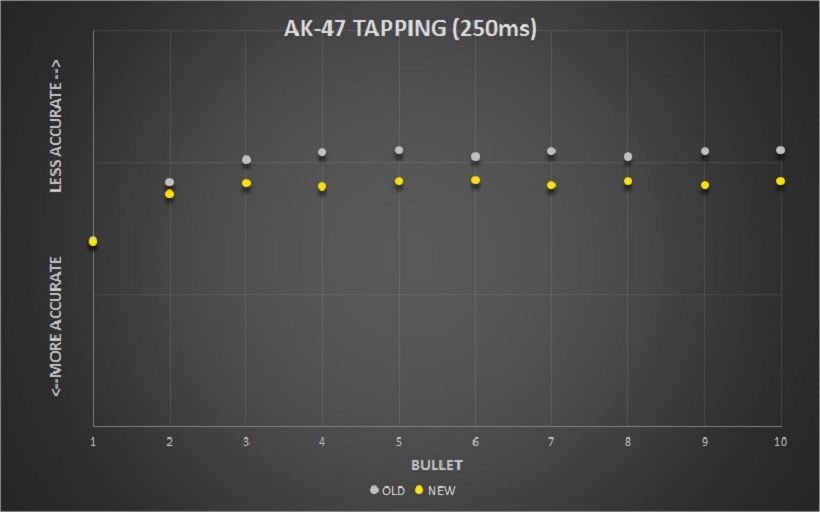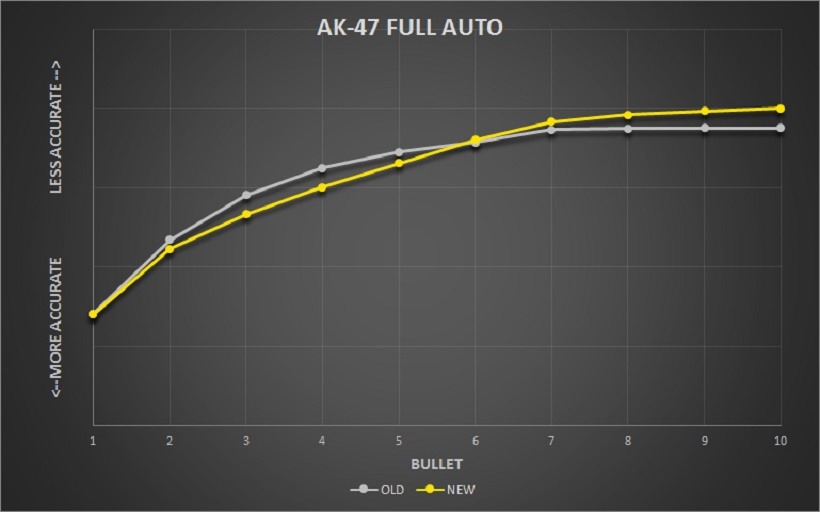 It feels almost as if CS:GO is going back to its roots in 1.6 which heavily favoured tapping, although the spray pattern was more defined. These changes are exciting as it promotes skill, in my opinion. Spray transfer and duels will completely change as the more accurate players will deliver some fantastic shots, something we always look forward to.
Like esports?
Check out esports central
Last Updated: August 4, 2016