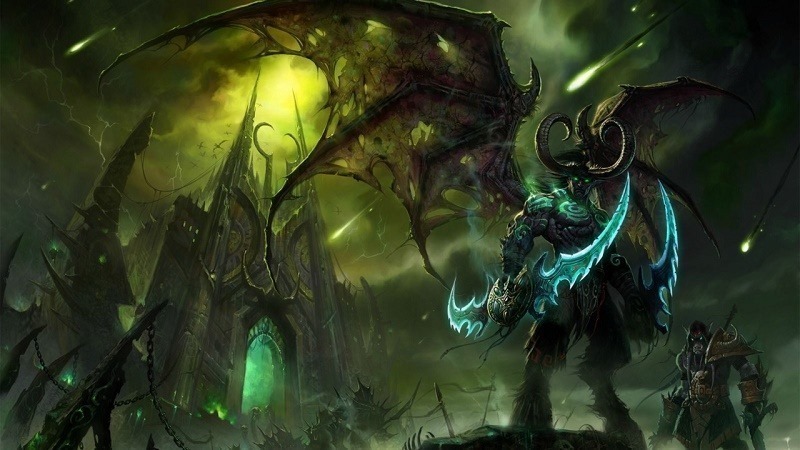 In the wee hours this morning, Blizzard unleashed the sixth World of Warcraft expansion, Legion, upon the world. Did you get yourself a copy? No? That's a darn shame! Just look at what you're missing out on…
Stalk Your Prey as a Demon Hunter: Turn the tainted power of the Legion against them as an all-new hero class-the vengeful Demon Hunter. As a damage dealer or tank, pursue and evade your targets with preternatural agility; draw upon your demonic fury to fuel devastating attacks; and strike fear into your foes by metamorphosing into hellish new forms.
Wield Legendary Artifacts: Build a battle-forged bond with your own Artifact-a legendary class-specific weapon that transforms and grows in power as you battle the Legion. Customize your Artifact with personalized traits, tempering-or twisting-it into a form that suits your character.
Explore the Ancient Roots of Azeroth: Seek your world's salvation among the forbidden ruins of the Broken Isles-mythic seat of night elf civilization, gateway to the Emerald Nightmare, and hiding place of the titan relics used to shape Azeroth.
Unify Your Order: Find refuge from the felstorm at your Order Hall, a site of great power linked closely to your character's class and cause. Whether you follow the code of the paladin or the dark ways of the warlock, unite fellow members of your order to carry out class-specific missions and defend against annihilation.
Boost to Level 100: Prepare to face the invading armies of the Legion with a level-100 character boost, and experience this night-shrouded new chapter of World of Warcraft alongside your friends.
Earn PvP Powers in the New Honor System: Dominate the enemy faction in Battlegrounds and Arenas to progress through the all-new Honor system. Unlock PvP-specific spells and abilities that open up a range of new tactical possibilities, and earn prestigious titles and rewards.
. . . And More: Take on a wide array of Dungeons, Raids, Battlegrounds, Challenge Modes, and more on the way to the new level cap of 110-no matter what kind of adventures you seek, endless possibilities await.
Now now, stem those tears sweet child, for we at Lazygamer have a solution. We know you desperately want to join your friends in beating back the Burning Legion, and as luck would have it, we just so happen to have a Collector's Edition of the expansion to give away. Here's what it entails…
Physical Goodies
Full Game
Full-colour hardcover art book
Behind-the-scenes two-disc Blu-ray/DVD set
CD soundtrack
Legion mouse pad
Digital Goodies
World of Warcraft – Illidari Felstalker Mount and Nibbles Pet – Stalk the invading demonic forces atop one of the Burning Legion's own twisted hounds of war, and summon a delightfully demented companion to keep you warm by the fel fire.
Heroes of the Storm – Felstalker Mount – Charge down the lanes of the Nexus and wreak havoc on the opposing team astride this fierce fanged terror.
StarCraft II Portraits – Take back Aiur in infernal style with psionic-infused StarCraft II portraits of Illidan and Gul'dan.
Diablo III – Wings of the Betrayer – Equip your hero with Illidan's wings and strike terror into the hearts of Sanctuary's demons.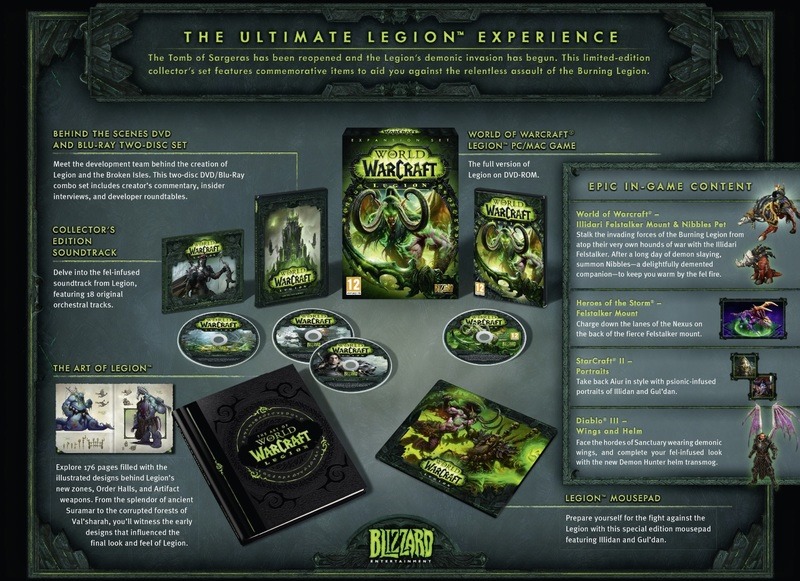 Want to win it? Great! All you need to do is fill in this form.
Error: Contact form not found.
To better your odds (ie: receive one additional entry), you can also tweet by using the following button:
After a week (so, sixth of September), we'll dig deep into our digital hat, and select just one name. MAY THE BEST LUCKY PERSON WIN!
Look, I'm not even a World of Warcraft fan, but even I want this Collector's Edition desperately. Just look at all that loot! It's be a waste on me though, which is why I'd be very happy to see somebody else win it.
Last Updated: August 30, 2016