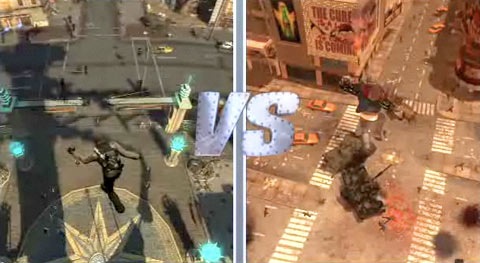 The much loved saga continues… and this time some clever people have something to say about it.
The videogames market has proven to be incredibly lucrative over the past years, and regardless of who we as gamers are and what we love, there is the entirely different business world out there that does all that it can to be as profitable as possible.
The Prototype Vs InFamous debate has raged on for what feels like forever already, and will probably still continue to do so for a little while longer. The reason (leaving all actual intelligence and understanding aside) for this is that while Prototype is multi-platform, InFamous is exclusive to the Playstation 3, which automatically means that it has an army of gamers that will defend it to the death (Or until the chips run out).
So what will all those guardians of the exclusive have to say when they hear that Prototype is set to outsell InFamous by a massive 90 percent?
This information isn't a wild guess, or from some random forum comment, but comes from the clever people from Electronic Entertainment Design and Research (EEDAR).
If there research proves to be correct then it would be yet another shining example of why it's just plain better for everybody when a game is released on multiple platforms instead of staying exclusive to only one.
When asked by gaming site Destructoid, if money given to developers for the exclusivity could balance out the numbers, he had the following to say:
"SCEA published inFAMOUS, so I would venture to guess they paid nothing for exclusivity. Sucker Punch, the developers, have only done PlayStation 2 and 3 titles,"
"They are most known for the Sly Cooper series. I am sure Sucker Punch receives a lot of financial incentives to stay exclusive to Sony, which likely takes the form of higher royalty percentage points on gross sales."
Sony is not in the financial position to pay for exclusive releases at the moment,"
"which limits exclusive releases to first-party published titles. They openly admit that they won't pay for exclusive DLC."
What does all of the above mean to us? Well, almost sweet bugger-all, except for one big thing. Yes, we want these developers to make good money so that they can all be so rich that they make the next one even a zillion times better, but a lot of other platform owners still aren't going to be able to enjoy the InFamous experience.
I have said it before and I will keep saying it until I die (or also run out of chips), exclusives are bad for almost everybody from the gamers to the developers and publishers and should be taken away.
If you really need to push your console, how about timed exclusives only? At least that way you can push your console's sales for a while and then give the other gamers as well as the developers and publishers what they all want as well.
And please, if anyone gives me that "only possible on…" speech, I will email a stab wound to them because we all know it's a load of rubbish.
Thanks Destructoid
Last Updated: July 14, 2009