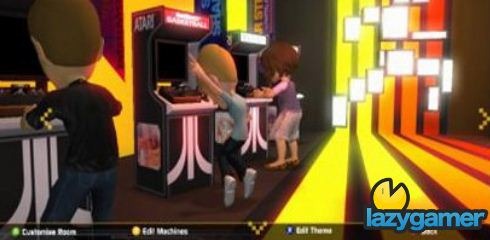 The big news around the Internet today is that it is rumoured that Microsoft are looking at bringing a PlayStation Home like interface to the Xbox 360.
The rumour has sprouted from a survey being conducted at the moment which amongst other things asks people to choose a name for a classic gaming space with names such as AvatArcade, RetroCade, Games Room and the all dominating Tower of ROM being offered.
The idea of a PS Home hybrid being shoe horned into the Xbox 360 horrifies me, PS Home is a disaster and a complete waste of time and money. Why Microsoft would even consider doing something similar is beyond me… However if they choose to call it Tower of ROM I am all for it.
If you squint your eyes and and concentrate you can make out the three button options on the image above
A – Customise Room

Y – Edit Machines

X – Edit Theme

B – Back
My guess at the moment is that Atari and other companies with huge back catalogues would be interested in creating gaming rooms where you and your party can go to play old retro titles and possibly even compete against each other.
But the key differences between this and Home is that you won't wander around a fake town looking for areas, you will simply just have an area that you created that you can invite people into…
Something similar to the old Starcade
Horrifying isn't it.
Source: Kotaku
Last Updated: October 8, 2009