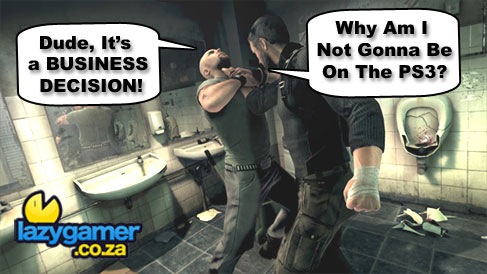 Anyone who watched Microsoft and Ubisoft's E3 conferences would have been blown away by the next game in the Splinter Cell franchise. PS3 owners, while flaunting their Uncharted 2 pre-orders must still be a little upset at the fact that the Xbox 360 exclusive isn't coming their way. Well, according to Ubisoft's Steve Masters, it's not for lack of ability or technical prowess.
They could, if they wanted, port the incredible looking stealth-action game to the Black Sony Monolith if they wanted; "Ubisoft as a company now has a lot of experience with PS3. Our processes, tools, techniques are very well-developed – we could absolutely execute on the PS3 if we had the opportunity," Masters said in an interview with Kikizo.
According to Masters, the decision to keep it on the 360 is purely a "business" decision. By business decision, I think he means that he now has a Microsoft-sponsored yacht moored in Cannes, and nowtakes  his vacations in Monte Carlo.
Regardless of which platforms the game will be on, and whether or not greased palms were involved it's looking like a sure-fire winner.
Source : Kikizo
Last Updated: July 22, 2009