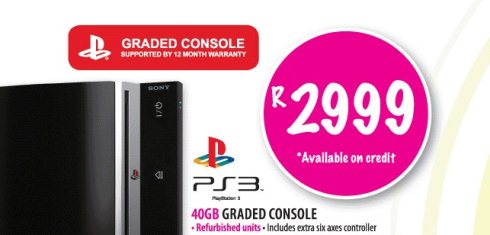 Are you still PS3-less? Do you dream of taking on Kevin Butler in ModNation Racers or taking on lans in GT5 towards the end of the year?
If so then this is your lucky day, In Game's most recent catalogue is an offer to get yourself a PS3 with 2 bundled games (Heavenly Sword and Ratchet & Clank) for a sniff under R3000.
That's an incredibly good price and as always there is a catch.
The units on offer are old PS3's which have been refurbised and only come with a 40Gb HDD but if you're a dedicated Xbox 360 gamer and would like to try out some PS3 exclusives then this is most probably the best offer you are going to be able to find.
As a side note this story came from the incredibly useful "Submit a Tip" menu option that you can see above and was originally submitted by Fox1. Unfortunately I had to edit it just a little but we would all love to see a lot more community posts moving forward so please do keep them coming.
Last Updated: June 3, 2010