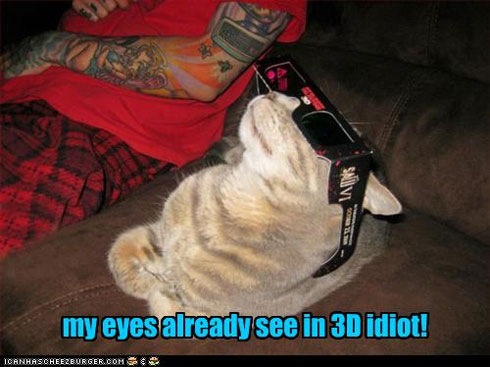 That scheduled PS3 maintenance yesterday? that was to prepare the system for 3D, apparently.The PSN is now serving 3D games, with the first 3 available today, and a demo coming tomorrow.
If you've already jumped on the 3D TV bandwagon, you'll be able to download 3D enabled versions of WipEout HD, SuperStardustHD and PAIN, with a 3D-enabled demo of MotorStorm: Pacific Rift tomorrow.
WipEout HD in 3D does not include the Fury DLC
PAIN includes two new modes created specifically for 3D called Alien Toss and Ice Blocks which is free with the TV pack, or individually
SuperStardust HD in 3D promises to "transport you into a spectacular space setting"
MotorStorm 3D Pacific Rift Demo includes the single player race around the Kanaloa Bay
"PlayStation has always been about outstanding entertainment," said SCEE president Andrew House. "The stereoscopic 3D Collection showcases the depth of technology behind PS3 and gives us a feel for the potential for future releases."
"Stereoscopic 3D technology coupled with the likes of PlayStation Move motion controller allows us to create an ever more compelling, realistic and immersive experience. Add to that our online capabilities, community interaction features, our film and music services and you've got a very exciting proposition for the future of home entertainment."
If you already own those games, a free patch will bring them to you in 3 whole dimensions, and they'll also be bundled should you purchase one of Sony's shiny knew 3D Bravia TVs. It's become increasingly evident how Sony's used the Ps3 to push their other tech on the consumer – starting with Blu-ray. It worked out pretty well for that HD media format, but I'm doubtful 3D gaming – a gimmick i'm not yet convinced by – will catch on that much – this gen at least.
It's going to be pretty difficult to convince people to replace the large HD TV's they've recently bought.
Source : Playstation Blog
Last Updated: June 10, 2010