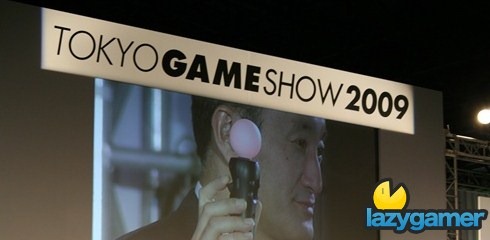 First up I think it's about time Sony gave these things a name. The most common name for their upcoming motion controller is The Wand but I have heard some of the dev's calling it The Globe and to be honest I prefer that one.
Anyway at TGS this morning Kaz Hirai has been giving the keynote speech and one of the more interesting points he made is that the upcoming PS3 motion control sticks are going to be released in Spring (our Autumn) 2010 and they will be providing slight vibration feedback.
I would presume in the same way that the Wii does at the moment.
Other things mentioned in his keynote is that the PS3 Slims sales are doing well, Sony are looking into emotional recognition to see if you are scared, excited etc and that the PS3 has a bunch of awesome games coming up but I didn't spot anything new that was announced.
All in all it wasn't much of a speech and it looks like TGS isn't going to be the place for big news this year.
Apart from that all important Wii price cut that was officially announced right in the middle of the Sony conference… you gotta love corporate games.
Last Updated: September 24, 2009