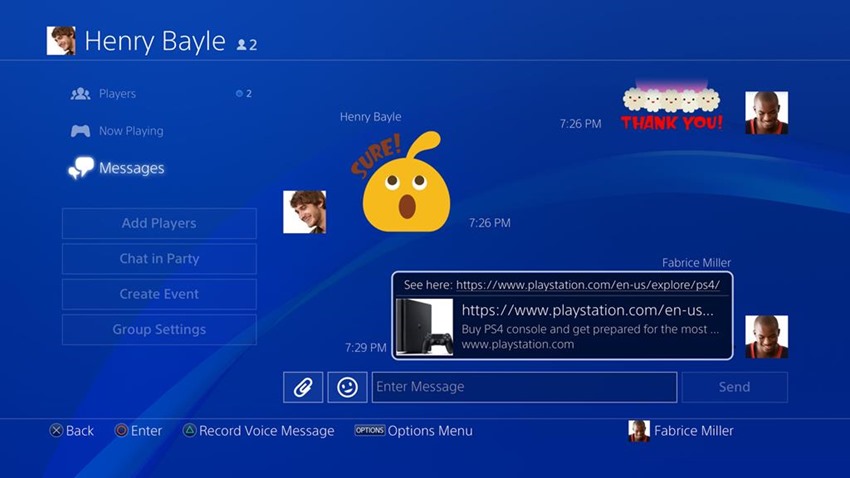 Four years in, and the PlayStation 4 is a wildly different beast to the machine that first launched a new generation of gaming. While the internals of that console are still largely the same to anyone who stuck with the far sexier original model over its eventual slimmer and more layer-cakery upgrade, it's the software that has seen numerous tweaks and fixes via regular updates.
Today is the day for one of those updates, albeit on a grander scale. After some time in a private beta, the PS4 update 5.0 is finally out. Weighing in at a not too hefty 375 megabytes in size, update 5.0 is all about controlling who you play with and who plays on your console. The first major feature is the chance to curate your friends list, creating playlists of pals who spend all day playing Jojo's Bizarre Adventure: Eye of Heaven as an example.
I'm the only person in that group, but it's still my favourite managed list of friends so far. Still, if you're keen to create a list of friends who engage in Destiny 2 regularly, then here ya go. Other features in the update include tighter parental controls, improved sub-menus and more. Here's the full list from Sony, in case you feel like doing some reading:
PS4 Update 5.0 Patch Notes
Main Features In Version 5.00 Update
You can now add users of your PS4 as family members. This makes it easy to manage your child's account information and to restrict PS4 features. To add family members, select (Settings) > [Parental Controls/Family Management].

As the family manager, you can set up your family.
Up to seven family members (including you) can be in your family and use online features.
Multiple adults can be in your family. The family manager can make other adults in the family parents or guardians. The family manager and family members who are parents or guardians can adjust parental controls for the children in your family.
You can configure parental control settings for each child. Using parental controls, you can restrict use of online features and communication with other players, set restrictions for games, restrict use of the Internet browser, and set spending limits for PlayStation Store.
You can configure parental controls anytime from your PC or smartphone.

You can now follow anyone, not just verified accounts. Select (Follow) on a person's profile screen, and their activities and broadcasts will appear in [What's New]. You automatically follow your Friends, but you have the option to unfollow them.

Recommendations for who to follow are now offered based on the games you play. Select (Friends) > (Follow).
You can now choose who can follow you and who can see your follow list. Select (Settings) > [Account Management] > [Privacy Settings], and then configure each setting.

(Custom Lists) has been added to (Friends). Create custom lists to easily organize your Friends and choose players to send messages or game invitations to.
For certain broadcasts, (Communities) now appears on the (Live from PlayStation) viewing screen. To access the broadcaster's community, select (Communities).
You can now view (Notifications) on the quick menu.
The following languages have been added as system languages.

Czech, Indonesian, Hungarian, Romanian, Vietnamese, Greek, Thai.

When broadcasting PlayStation VR gameplay, you can now see spectator comments on your VR headset screen.
Other Features In Version 5.00
For (Messages), screen layout has been improved, and the following features have been added.

You can now receive music that has been shared with you as a message. Select the message to play the music.
Messages containing a URL now display a preview.

The following features have been added to the quick menu.

You can now select [Leave This Party] to leave the party.
You can now see albums and playlists for songs playing in Spotify.
A clock has been added.

The following features have been added to (Settings) > [Notifications].

You can now disable pop-up notifications during video playback.
You can now choose the color of pop-up notifications.
You can now choose to show or hide message details in notifications.

You can now choose to broadcast in 1080p (60 fps) when using Twitch on your PlayStation 4 Pro.
You can now enjoy Blu-ray Disc and DVD content in virtual surround sound when you connect headphones to PlayStation VR.
Last Updated: October 3, 2017