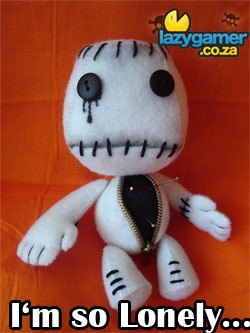 With the PS3 being infinitely more powerful than its handheld sibling, it was inevitable that something had to go. Other than the high-res visual fidelity, it seems the one aspect that got cut was multiplayer.
"The one thing we've lost is multiplayer. You've got full physics systems, you got full create mode, you've got all the aspects of LittleBigPlanet – you can upload, download, ad-hoc share with people – but we haven't got multiplayer" says senior producer Mark Green, further adding that "It's a trade-off. The system is physically capable of doing multiplayer, but perhaps not with the full physics system. On the technical side of things you lose a third of the processing power or a third of the system memory just to do multiplayer at all. With those limitations we couldn't achieve it."
This has me a little upset; One area where LBP really shines is its 4-player multiplayer. I found the single player to be a little dull, but significantly enhanced when played with friends – and to be honest the exclusion of that feature of the handheld game means I have no real driving need to get LittlerBigPlanet.
Source : Eurogamer
Last Updated: August 20, 2009