Gaming subscription services have really started taking off – and there's a good reason for that. Games – which are a luxury item – cost a heck of a lot of money, so capped subscription services make a lot of sense. It's more economically feasible for many to pay a single monthly fee that offers a smorgasbord of games than it is to buy new games all the time. And with services like Microsoft's Game Pass and EA's Access ones, those subscriptions even net you the newest games from those publishers.
They're likely to gain in popularity too, not just among consumers, but also with platform holders. And there's a simple reason why. Gamers who use subscription models for gaming spend twice as much on recurrent in-game transactions than those who buy games do. So says gaming analysts at Superdata, in a new report on game streaming services. In that same report, they claim that subscribers spend $25 per month on in-game fluff. Their research suggests that contrary to belief that these services cater to casual gamers, they're actually being used more by "core" gamers.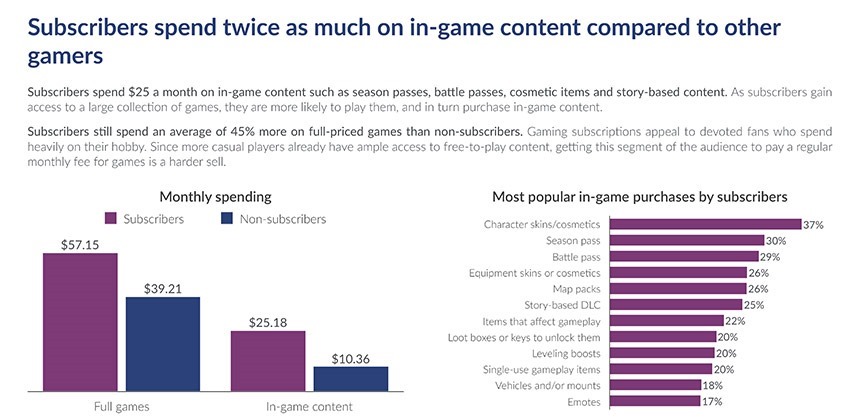 They suggest that these core gamers spend 45% more on full-priced games than non-subscribers do, despite having a giant library of games to download and play at will. The most popular thing that people spend their cash on in games? Yup, "harmless" cosmetic items.
Another interesting thing in Superdata's report is that the most popular game subscription service at the moment is…Sony's PlayStation Now. According to their report, Sony had a 52% slice of the $273 million Dollar subscription pie in the last quarter alone. Xbox Gamepass, for comparison's sake, has 15%, while EA shares the rest of it, divided between their three subscription offerings: EA Access, Origin Access, and Origin Access Premier. These subscriptions services contributed 6% of the overall videogame consumer spending in the quarter, and that number is likely to keep growing.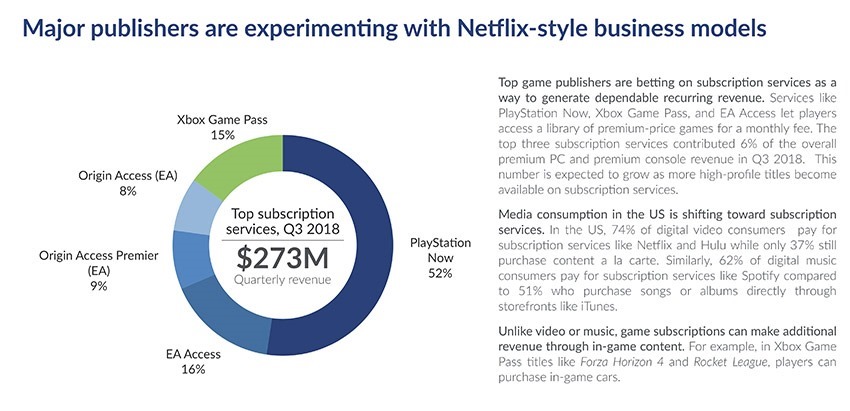 "The game subscription market heated up immensely in 2018 as game makers sought sources of consistent, recurring revenue," said Carter Rogers, principal analyst at SuperData, in a statement. "To increase the appeal of their own subscription offerings, publishers are now offering brand-new titles to paying members."
Last Updated: November 8, 2018