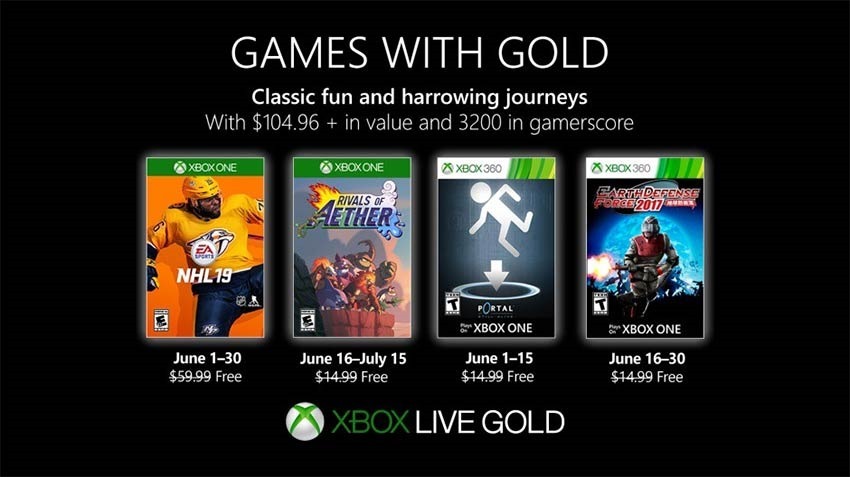 PlayStation's scored a goal with their PlayStation Plus games for June. You've got the Borderlands Handsome Collection (itself a collection of two games, one of which is great and the other is a middling cash-grab of a prequel), and Sonic Mania, arguably the best Sonic game in the history of Sonic games. The Xbox Games with Gold for next month don't quite score goals, but they'll let you score them.
The first game in the June line up is NHL 19, a game about big blokes hitting little pucks into nets and then punching each other in the face. While I haven't played a Hockey game since Blades of Steel on the NES, critical consensus of the game has been mostly positive. If hockey's your bag, it's probably enjoyable. The other Xbox One game in the bunch is Rivals of Aether, a pretty good indie fighting game in the Smash Bros vein, that's "set in a world where warring civilizations summon the power of Fire, Water, Air, and Earth."
In it, you can "choose a Rival to bring into the battlefield and manipulate the powers of the classical elements and animal movement." Neat!
As for the Xbox 360 games that have backwards compatibility, it starts off with one of the finest games ever made, Portal. Just the original Portal. Great game, but hardly worth getting excited about because everybody on planet Earth has played it. If you somehow haven't though, you're in for a treat. The last game available is Earth Defense Force 2017 and I have nothing to say about it, because doing so would mean pretending I've heard of it before.
To sum:
Last Updated: May 31, 2019