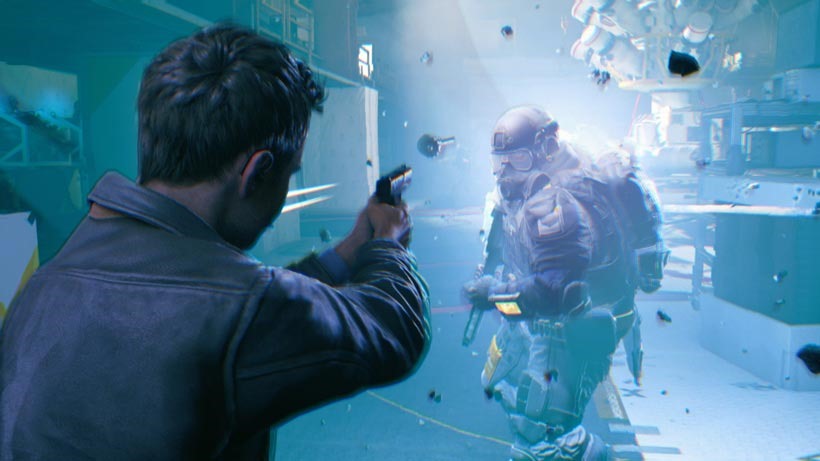 Things are looking good for Quantum Break right now. A gold certification means that primary development has wrapped up, leaving Remedy ready to start working on the day one patch. The game has a nice set of pre-order bonuses that actually feel decent, such as the original and superb Alan Wake games. Oh, and a free Windows 10 version of Quantum Break as well. That's not bad at all, provided that your rig can handle all that chrono-bending action or you've managed to not be run over by the whaaaa-mbulance that is carrying irate fans from both platforms.
But here's the really important information that you're after: How big is Quantum Break? According to a leaked listing on the Xbox store that was shortly removed, but not before Wccftech captured it, Quantum Break is indeed bigger than your grotesque face. HA! ZING. Seriously though, it'll clock in at a download of 44.09 GB

Here's the thing though: That's not the biggest game ever released on Xbox One. That honour goes to Halo 5: Guardians, which is now more than 55 gigglebytes big, not counting the numerous updates and patches that it has received lately. The question here, is how Quantum Break utilises that data. Is it 44 GB of pure data, textures and raw audio files? Is the live-action TV series included in that download? Will the body of the original Jack Joyce that digital Shawn Ashmore replaced ever be found?
All questions that will be keeping me awake at night until I eventually remember that I need to sleep. Remember, that's just the Xbox One file-size, although the PC version should be similarly massive. Just like yer mum. HA! Butter me up, because I'm on a roll today. Quantum Break hits physical and digital shelves on April 5, while annoyed readers' fists hit my face shortly after this post.
Last Updated: February 23, 2016