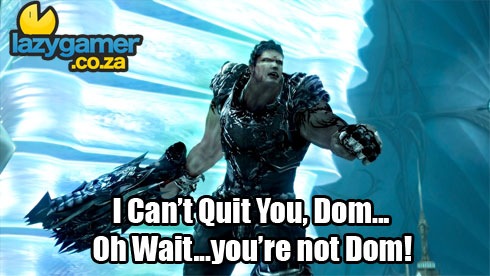 Quantum Theory – once just called Quantum -, the Japanese developed Gears of War Clone 3rd person action game with a cover system and big burly men will no longer be a PS3 exclusive, as confirmed by Koei-Tecmo. This would likely be a kick in the nuts to PS3 fanboys if they actually cared about the title in the first place.
Previews of the game have been less than positive – making this a hollow victory for Xbots, who'd likely rather play Gears of War instead. The game has also been criticised for its derivative visuals, something Tecmo have been quick to respond to.
"One of the ways we're looking at differentiating Quantum Theory and one of the things that we can bring to the genre is an emphasis on story, art and visuals," Tecmo's Producer Makoto Shibata said. "Most third person shooters are military-based and kind of brown. We're trying to bring more color and beauty … We think this kind of style is kind of unique to us, and says about what Tecmo can do differently." 
Gears of War plus My Little Pony? Hooray!
Trailer after the jump.
Last Updated: December 8, 2009