I have had my eye on Borderlands for quite some time now and the time had finally come for me to see it with my own eyes and get the chance to actually play it as well.
The problem you see, is that even with 6 machines running the game I wasn't able to get a play in throughout the weekend because the stand was so damn packed that the only way to get a go on one of the machines would have involved my elbow being launched at high speeds at some kid's face and a possible scuffle with security.
I then realised that I should abuse my position as media and so, while everyone else was being kicked out of the dome during the finals minutes of rAge on Sunday, I got some time to sit and play around 20 minutes of this upcoming first-person role-playing action something-or-other.
I had spent a lot of the weekend actually seeing Borderlands get demoed, with a great run through being shown off by 2K games' David Holse (who nearly had no voice on our podcast thanks to all of that).
I was getting pretty pumped about playing the game with every time that I saw the game running.
It was an understatement to say that I got chucked into the deep end.
I took control of a PC that was already a part of a 4-player co-op team that had been playing for a fair amount of time and was at the point where the first boss needed to be tackled. I don't know what had happened or who had been playing on that machine but my character was on only level 2 and really not cut-out for this sort of battle just yet.
The great thing about the game is that the co-op is as much about teamwork as something like say, Left 4 Dead, which means that if you work together you can handle a lot of crap, if you separate, you are in for a world of hurt.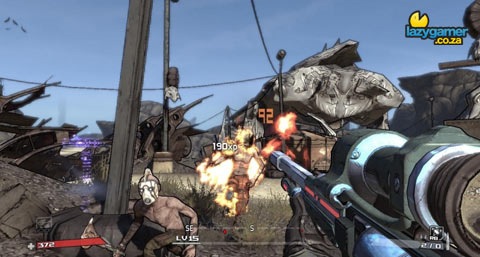 The controls feel really great and are will be very familiar to anyone who has played any decent shooter in the last couple of years. On that same note the RPG elements of the game come into play in a really massive way.
I have not had a lot of experience with MMO games like World of Warcraft, so I didn't fully get the grasp of what "aggro" is and does. That is, until I was standing a little bit away from my team and started sniping at all of the monsters that they were fighting, thinking I could pick some off easily. It dawned on me that it was possibly not the greatest idea, as I saw all of the enemies look at me and then start rushing at me with a fury that even Steven Segal would be proud of.
As my voice hit new levels of pitch while I screamed like a girl, I ran towards my team in the hope that my ankles would not be missing by the time that I had gotten there and thus, my understanding of "aggro" was born.
I cannot fully explain how satisfying the gameplay in Borderlands is, I was incredibly impressed with the feel of the game and the seamless blend of everything that I love about shooters as well as RPG's like Diablo, Guild Wars and so on.
I also want to add that the visuals on the PC were sharp and beautiful and while I was worried that the console version would be a let down when compared, I was happy to see that they too were very sharp and good looking.
Borderlands releases at the end of this month and if you haven't taken much interest in the game then I suggest that you change your ways and give it a look. WIth all of the great gameplay, 4 player drop-in co-op as well as randomly generated areas, this game has definitely become one of my most anticipated titles of 2009 and one that everyone should take a look at.
Last Updated: October 5, 2009