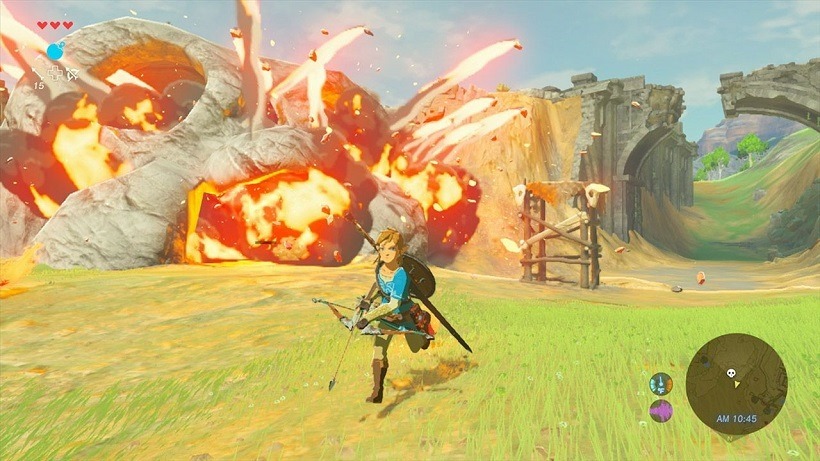 I'm still enjoying the small snippets of The Legend of Zelda: Breath of the Wild gameplay Nintendo is releasing so frequently. The one minute pieces have shown off a variety of different aspects of the rather large open-world adventure title, from close-quarters swordplay to more mystical, magical exploration. Today though is about taking to the skies – and how it opens up combat in some truly special ways.
Just like Wind Waker before it, Breath of the Wild will also allow Link to soar through the air for a limited time. Although this time thanks to a paraglider instead of an overgrown leaf, which will slowly sap Link's stamina as he uses all his strength to hold on. And hold on you should, considering the massive advantage it seems to give Link when gliding over an enemy encampment. Just look at the destruction he rains down in the gameplay below.
Explore new horizons with the paraglider in The Legend of Zelda: Breath of the Wild. pic.twitter.com/xozg4GSywl

— Nintendo of America (@NintendoAmerica) 31 August 2016
That quick change between gliding and raining down flame arrows on enemies? Now that's the type of Breath of the Wild moment I want to replicate time and time again. Of course this can be linked up in all sorts of ways with Link's other abilities, including magically enhanced sword swings, environmental capitalisation and old fashioned stealth.
If you've somehow missed all of the past gameplay tasters, YouTuber Arekkz has compiled them all (and some other additional gameplay) into a single video for your viewing pleasure. The Legend of Zelda: Breath of the Wild is expected to be out early in 2017, and will likely be an NX launch title. It's also coming to Wii U, but until Nintendo make up their minds as to when we're going to hear more about the NX, we'll have to just settle for this continuing tastes of the next great chapter of Zelda history.
Last Updated: September 1, 2016