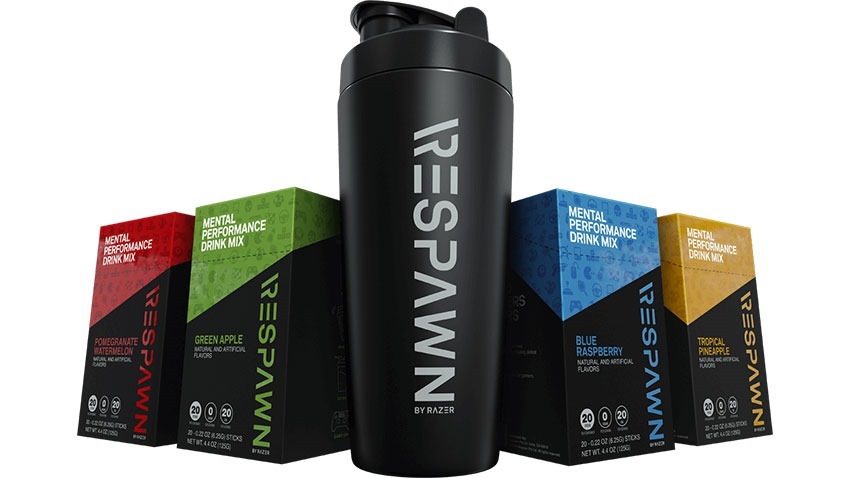 Energy drinks are big business. The stuff companies are shilling for gamers – like G-Fuel (The Official Drink of esports!), Rogue Energy, Kill Cliff and a host of other pre-mixed or drink mix powders are making a killing selling their wares to gamers who want an edge in the games they play. These drinks purport to increase mental acuity and reflexes, mostly by repackaging caffeine in sexy gamer-focused packaging.
And now Razer wants a slice of that pie. The company has revealed its own energy drink. It's actually something that started out as an April Fools joke years ago, but Razer's obviously seen how lucrative repackaged caffeine can be because gamers will buy anything. Razer says these aren't just caffeine-laden energy drinks though, and rather they're nootropics that'll heighten mental alertness. Razer's Respawn will be available in blue raspberry, pomegranate watermelon, green apple and tropical pineapple. They're sugar-free beverage that have green tea extract (which is basically…caffeine), choline, vitamins B3, B5, B6 and B12, ground ginger and 95mg of caffeine per serving. They're $25 for a box of twenty. Razer is also offering a branded $30 metal shaker to mix your little sachets of caffeine in – because once again gamers will buy anything.
So with the B vitamins and abundance of caffeine, what makes this different to an energy drink?
"Energy drinks are typically promoted for enhancing physical performance. We specifically designed RESPAWN to enhance mental performance, which we feel is conducive to focusing on a screen for long periods of time. We want you to be able to game better, longer."
It's only available in the US right now, and will presumably make its way through to other countries in the future.
Need more E3 in your life?
Check out our E3 2019 portal
Last Updated: June 11, 2019