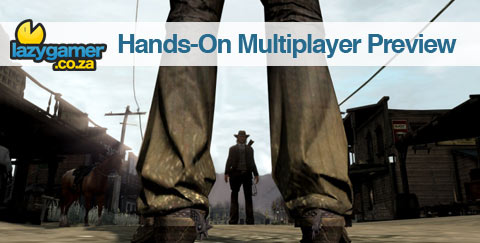 We've already gone into great depth about the single player campaign for Red Dead Redemption but I myself have always been more of a multi-player gamer so when I received an invite to head down to Sydney for a preview of the multi-player segment of Red Dead Redemption nothing was going to stand in my way.
That is nothing except waking up feeling like I had gone 10 rounds with Mike Tyson, my general hate of flying, turbulence, the worst ham and cheese sandwhich known to man and a dodgy taxi driver who tried to get me to pay extra for the cab because he wasn't going that far… but that's an entirely different story altogether.
The important thing was that I made it and spent around 3 hours getting to grips with all the different multiplayer modes and here is what I found.
Be warned Red Dead Redemption is a huge game and this is a huge preview, get that coffee ready.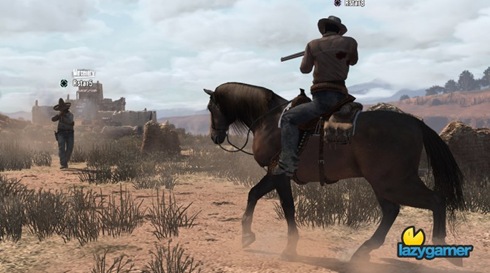 First we entered the free roam mode to allow myself and 7 other journalists the chance to reaccustom ourselves with the controls. In free roam mode you are dropped into the huge open world of Red Dead Redemption and the match simply just happens.
In essence Free Roam mode is your lobby, you can wander around and interact with other gamers, NPC's, animals and the environment. I did the gentlemen like thing and just randomly started attacking everything that moves including my team mates which quickly turned into a mass shootout in the middle of the town we were in.
I then wandered off to see what else I could find and stumbled across some innocent towns folk going about their business, after mowing the entire lot down I noticed that I now had a bounty on my head and that my radar now had a large red glow cast across it. If you recall from the single player previews this is your wanted meter and since I had now killed a bunch of innocents the law of Red Dead Redemption was now after me.
So basically I had created my own mini version of Horde/Firefight/Zombie Nazi mode, I hunkered down in the middle of the town and started to defend myself against the incoming lawmen. With each lawman I took out my bounty and wanted level increased until they finally took me out… It was hugely entertaining and something I plan on trying again once the full game arrives.
Next up our host sent us a Posse invite which we accessed via our ingame menu and accepted to become part of her Posse (gang). She then set a waypoint on our maps and off we headed to go clean up a gang.
Unfortunately the childish nature of all videogame journalists got the better of us and the trip to the waypoint turned into yet another mass brawl as you can take out your own gang members with impunity.
One we arrived at the gang hideout a set gametype was triggered and we were tasked with cleaning up the hideout and ridding it of the enemy gang. This was accomplished really easily and then the second part of the mission began where the gangs reinforcements started to arrive in waves and we were forced to defend the hideout with our lives until the set time limit was reached. All in all it was fun but far to simple, this could be because there were 8 of us though?
We then received another waypoint order and off we set to clean up another area, this time we had to rush a church to kill all the gang members hiding inside, so no religious tolerance here, then off we went to the mansion next door to clean that out. Again it was fun but far to simple.
Free Roam Official Video
Next up we started rotating through some of the stricter game types on offer.
Last Updated: April 8, 2010