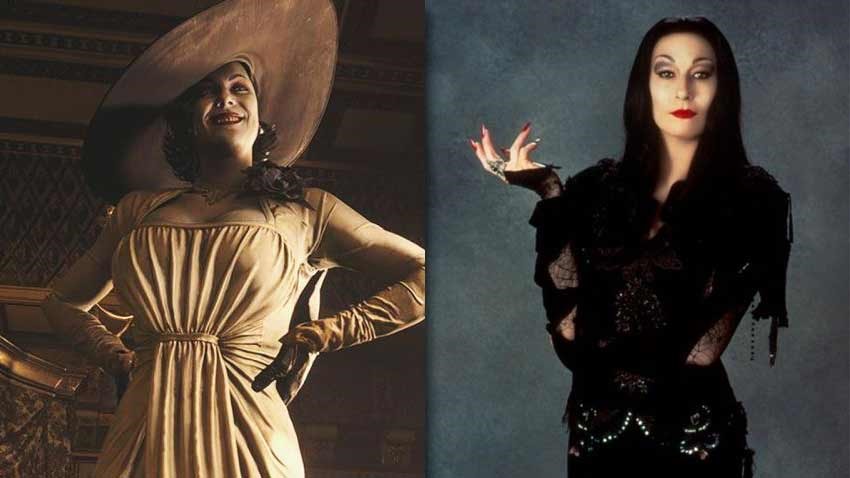 Inspiration can come from the most unlikely of sources, but seeing a faint link between Capcom's next Resident Evil game and cult classic spooky clan next door The Addams Family? Yeah, I can see that have an impact on the creation of Resident Evil Village's breakout character, Lady Dimitrescu. Speaking to IGN, Resident Evil Village's art director Tomonori Takano explained how Angelica Huston's portrayal of Morticia Addams helped shape the fan-favourite 10ft tall vampire lady.
"In the early stages of planning, we decided on going with [a] castle and vampires motifs," Takano said. "However, we did not want to be constrained by how vampires have been portrayed in various forms of popular entertainment."
Takano's design originated with a"bewitching vampire,", drawing inspiration from famed 16th-century Hungarian noblewoman and serial killer Elizabeth Báthory and the Japanese urban legend of Hashaku-sama in addition to Huston's iconic appearance in the two Addams Family films. "The very first piece of concept art I drew was the scene in the trailer where Lady Dimitrescu ducks down to walk through the doorway," Takano said. "From that moment, I knew I had to do that scene."
Dimitrescu's design is also part of Capcom's push to create more distinctively terrifying characters, a drive that began in Resident Evil 7: Biohazard and resulted in the creepy as hell Baker family. "We analyzed the characters and elements in the Resident Evil series so far to see if they were truly scary," Takano said, "or if they had become so conventional that they lost their effectiveness in scaring players."
I tried to forget the design logic of the past, and began to think about the best ways to create fear.
According to Resident Evil's longtime producer Jun Takeuchi, "If we want people to be scared, we need to think beyond the stereotypical zombies." Of course there's more to Resident Evil Village than just an oddly public desire to be stepped on by the Tall Lady, as the game is also adding several other supernatural elements to the mix. After two decades of rampaging bioweapons and the undead, it should make for a fresh departure from the usual spooky norm when the game arrives in May.
Last Updated: February 11, 2021