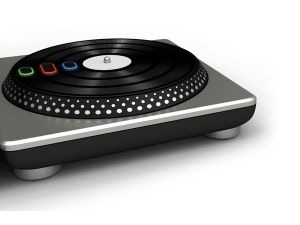 As you may already know, after nearly two years, Activision is finally releasing DJ Hero! If you weren't amongst the informed, a summary of the title is that its the DJ equivalent to Guitar Hero and World Tour. And yeah its being released with yet another peripheral, namely a simplified DJ deck or turntable.
Its fully equipped with a scratching platter which has been compared to the Guitar Hero's strum toggle and three extra buttons which would be used for sampling. The deck also boasts a cross-fader and even a sound effects dial which could be best compared to the whammy bar in Guitar Hero.
Gameplay would be slightly different from the Guitar Hero platforms as DJ Hero would consist of notes flowing down and around the on-screen vinyl.
But for those of you who haven't yet skipped to the bottom of this article for the tracklist… your buffet awaits… just keep in mind these are just a few of the titles named prior to E3.
   * "Feel Good Inc." (Gorillaz) vs "I Heard It Through the Grapevine" (Marvin Gaye)
   * "Jayou" (Jurassic 5) vs "Rockit" (Herbie Hancock)
   * "Bustin' Loose" (Chuck Brown) vs "Time of the Season" (The Zombies, DJ Shadow Mix)
   * "All Apologies" (Nirvana) vs "Give It to Me Baby" (Rick James, DJ Shadow Mix)
   * "Let's Dance" (David Bowie) vs "Jack of Spades" (KRS One, DJ Shadow Mix)
   * "Shout" (Tears for Fears) vs "Pjanoo" (Eric Prydz)
Last Updated: May 21, 2009